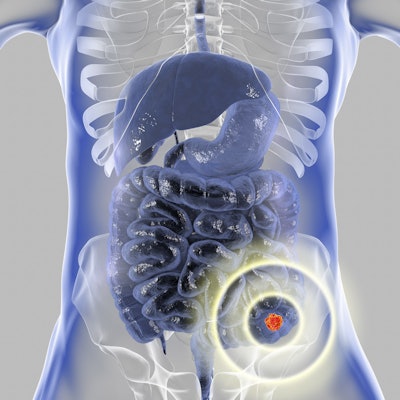 Working with infrared (IR) microscopes based on quantum cascade lasers and artificial intelligence (AI) can enable accurate classification of colon cancer tissue samples in a marker-free and automated way, according to a research team from the Prodi Centre for Protein Diagnostics at Ruhr-Universität Bochum in Germany.
AI allowed the researchers to differentiate tumors that were microsatellite stable (MSS) from those with microsatellite instability (MSI) with great accuracy within approximately 30 minutes, according to a feasibility study reported June 23 in Scientific Reports.
Patients with MSI tumors have a significantly higher survival rate due to a mutation rate of cancer cells that is about 1,000 times higher, but also because they respond better to innovative immunotherapy.
Differential diagnosis has been carried out by immunohistochemical staining of tissue samples with subsequent complex genetic analysis. IR imaging as a diagnostic tool for the classification of tissue has already been used in earlier studies at the university. The method recognizes cancer tissue without prior staining or other marking and also works automatically with the aid of AI. Unlike conventional methods that generate a differential diagnosis in a day, IR imaging requires only about half an hour, the researchers noted.
In the study just reported, which involved 100 patients, the method showed a sensitivity of 100% and a specificity of 93%. All MSI tumors were correctly classified and only a few samples were falsely identified.
The researchers are starting an expanded clinical trial that will be carried out on samples from the Colopredict Plus 2.0 registry study. In the future, the method will be introduced into the clinical workflow to assess its potential for precision oncology.