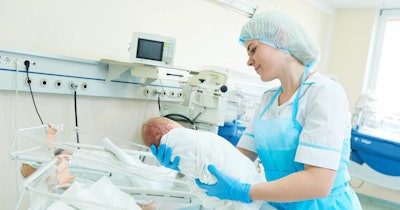 Widespread screening and early treatment of newborn babies with severe combined immunodeficiency (SCID) boosted their five-year survival rate from 73% to 87% in a study.
The retrospective study, funded and jointly led by the National Institutes of Health (NIH) and published Tuesday in the Lancet, may prompt more countries to screen for SCID.
SCID affects 40 to 80 babies in the U.S. and Canada annually. This rare disorder is caused by the mutation of genes involved in the development and function of infection-fighting immune cells. Although infants with SCID appear healthy at birth, they are highly susceptible to severe infections and likely to die within two years without immune-restoring treatments, such as stem-cell transplants, gene therapy, or enzyme therapy.
In 2005, NIH scientists developed a screening test for SCID, using blood from a pinprick to a newborn's heel. Individual U.S. states and Canadian provinces began screening newborns for SCID in 2008. By 2019, all U.S. states were performing newborn screening; however, screening's impacts were not completely proven. The NIH-funded Primary Immune Deficiency Treatment Consortium sought to definitively measure whether population-wide newborn screening for SCID improved the overall survival of infants with the disease.
Researchers analyzed data on more than 900 children with confirmed SCID who received treatment with a transplant of blood-forming stem cells from a non-genetically matched donor at one of 34 sites in the U.S. or Canada between 1982 and 2018. The researchers examined the five-year overall survival rate of these children between 2010 and 2018, when state- and province-wide newborn screening was in effect at participating sites.
The five-year overall survival rate for children with SCID who received a stem-cell transplant from a non-genetically matched donor remained steady at about 73% between 1982 and 2009, then increased to 87% between 2010 and 2018. Among children whose disease was first suspected based on newborn screening results, rather than illness or family history, and who received a transplant between 2010 and 2018, 92.5% survived to age five or beyond.
Data analysis demonstrated that being younger than 3.5 months at the time of transplant and not having an active infection at that time were much more common in the era of newborn screening and drove the increase in the proportion of children who survived to age five. In addition, between 2010 and 2018, the percentage of babies with SCID who had never had an infection by the time of transplant was dramatically higher, further fueling the survival increase.
These findings demonstrate that newborn screening facilitates the early identification of infants with SCID, leading to prompt treatment before life-threatening infections occur and prolonging their lives, the researchers said.
"This study definitively shows that population-wide newborn screening for SCID has made it possible to save the lives of many more children with the disorder than ever before," Dr. Hugh Auchincloss, National Institute of Allergy and Infectious Diseases acting director, said in a statement. "We hope these findings will encourage more countries to screen newborns for this devastating disease."