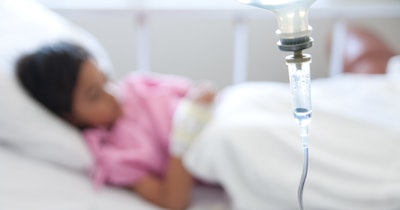 Oxford Nanopore Technologies and Fabric Genomics have teamed up to provide a sequencing analysis platform for neonatal and pediatric intensive care units (ICUs).
The collaborators formed their partnership after identifying the need to accelerate the assessment of children with genetic disorders. An estimated 2.8 million children in the U.S. have a rare genetic disorder. When a child is in intensive care, genomic data can inform the characterization of their disease and the therapies they receive.
To cut the time it takes physicians to gain such insights, Oxford Nanopore and Fabric have combined their respective technologies. The combination is intended to support the use of nanopore sequencing in neonatal and pediatric ICUs.
"For this incredibly high-risk patient population, speed and data-rich insights matter," Gordon Sanghera, CEO of Oxford Nanopore, said in a statement. Sanghera went on to outline how the tool "will make it easier for healthcare providers to leverage genetic insights and, in the future, support the health and wellbeing of children and families."
The collaboration integrates Oxford Nanopore's EPI2ME software with Fabric's software as a service platform. Through EPI2ME, Oxford Nanopore provides bioinformatics workflows tailored to long-read data generated by its sequencing devices. Fabric has created an artificial intelligence (AI) algorithm to help healthcare providers identify structural variants and potential pathogenic mutations.
Providing "push-button integration" between the systems of one company that sells real-time genomic reading technology and another business that uses AI to reduce the time and cost of identifying genetic drivers of disease could accelerate the assessment of children in acute settings. Fabric will also connect clinicians to its network of clinical geneticists to interpret their datasets.
The joint solution, which will deployed to CLIA-/CAP-certified labs, is available now on a limited basis. A wider release is scheduled for the first quarter of 2024. The initial launch is focused on "the highest complexity testing" for children in ICUs, but the companies plan to expand into late-onset genetic conditions, including cancer and cardiovascular disease.