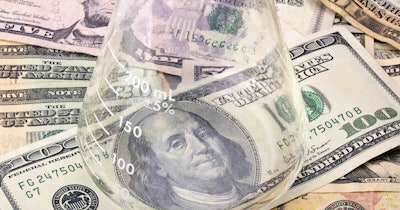 Oxford Nanopore is receiving a strategic investment of 70 million pounds ($84.6 million) from in vitro diagnostics (IVD) company BioMérieux. In addition, the firm has entered a collaboration with the Mayo Clinic on test development.
BioMérieux is purchasing 29,025,326 ordinary shares of Oxford Nanopore, which amounts to 3.5% of the firm's voting rights, at a price of 238.08 pence per share ($2.89 per share). BioMérieux also expects to purchase up to an additional 3.5% of Oxford Nanopore shares over time, subject to availability and price, with the firm promising not to acquire more than 9.9% of Oxford Nanopore's total shares over the next five years and not to sell any Oxford Nanopore shares for the next 12 months.
The deal is expected to close on October 23. This agreement is in addition to an ongoing collaboration between the two companies on the development of infectious disease diagnostics. As part of the agreement, the two firms aim to establish an IVD advisory board to help advance nanopore technology into routine clinical use.
Oxford Nanopore has entered its multiyear collaboration with the Mayo Clinic to develop new clinical tests in areas including translational research in human genetics and detection of genetic predisposition to cancer. The projects will be developed on Mayo Clinic's campus in Rochester, MN.
Financial and other details of this agreement have not been disclosed.
"We are proud to work with Mayo Clinic to support the development of new tests that will assist clinical decision-making and improve patient lives. This collaboration shows that Oxford Nanopore's technology is ready to support development and validation of assays for clinical care, and it underscores our maturity and long-term vision to transform this space. We have long held the ambition to become a utility player in world-renowned, global clinical centers of excellence, and this is our first step toward achieving that vision," Gordon Sanghera, CEO of Oxford Nanopore Technologies said in a statement.