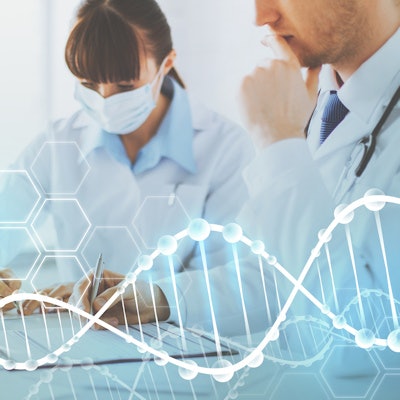 A low-cost investigational technique for assessing copy number alterations helps identify cancers that are aggressive, enabling clinicians to guide treatment accordingly, researchers at the Karolinska Institutet in Sweden reported in Nature Communications online October 18.
Senior researchers Magda Bienko, PhD, and Nicola Crosetto, PhD, and colleagues described the use of the technique -- dubbed CUTseq -- for low-cost measurement of copy number alterations throughout a tumor. Tumors with many copy number alterations are known to be aggressive with a higher risk of relapse for patients, who consequently require more aggressive treatment strategies.
The technique was developed as a way of overcoming limitations of next-generation sequencing technologies that are widely available but, nevertheless, are often still out of reach, the authors wrote. Although there are many ways to prepare DNA libraries and the cost of sequencing has dropped in the last decade, sequencing of multiple samples in parallel is still very expensive due to the methods for multiplexing, they explained.
"Typically, this is done by indexing libraries prepared from individual samples, followed by pooling together multiple libraries in the same sequencing run," the group wrote. "This means that all the steps in the library preparation procedure must be repeated for every sample to be sequenced, which is labor-intensive and multiplies the cost of reagents."
The Karolinska team overcame these barriers and achieved multiplexing by directly barcoding genomic DNA, prior to building a library, and then pooling barcoded samples into a single library. This enables high levels of multiplexing but at a low cost, according to the researchers.
CUTseq was a sensitive and reproducible method in cell lines and formalin-fixed, paraffin embedded (FFPE) tissues in primary and metastatic breast cancer, they found. Using single FFPE tumor sections, they were able to profile copy number alterations in heterogeneous tumors at high spatial resolution. The technique can be used in nonfixed and fixed samples, the authors wrote.
The study provides proof-of-principle evidence for the method, they concluded.
"Overall, these results demonstrate that CUTseq is a robust and sensitive method that can be used to profile, at high spatial resolution, DNA [copy number alterations] across multiple regions in clinically relevant tumor samples, thus providing valuable insights into intratumor genetic heterogeneity," the researchers wrote.
Furthermore, the technique is versatile and could be applied in many different ways in research and diagnostics -- beyond cancer, they concluded.