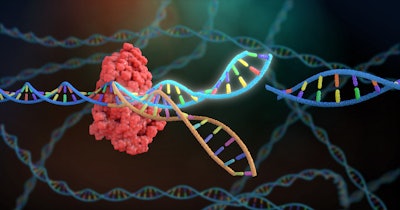 Biopharmaceutical company CRISPR Therapeutics will present preclinical data from its investigational gene therapy treatment programs for cardiovascular disease (CVD) at the American Heart Association (AHA) Scientific Sessions 2023 to be held in Philadelphia from November 11-13.
The firm will present the data in two oral presentations on Saturday, November 11, one for each program, entitled "CTX310: An Investigational in vivo CRISPR-Based Therapy Efficiently and Durably Reduces ANGPTL3 Protein and Triglyceride Levels in Non-Human Primates After a Single Dose" and "CTX320: An Investigational in vivo CRISPR-Based Therapy Efficiently and Durably Reduces Lipoprotein(a) Levels in Non-Human Primates After a Single Dose."
CTX310 and CTX 320 are investigational in vivo CRISPR/Cas9 gene-editing therapies that both use lipid nanoparticle (LNP) delivery of Cas9 mRNA and a guide RNA (gRNA) to the liver with the aim of reducing expression of a validated target for CVD.
In the preclinical data to be presented at AHA, treatment of nonhuman primates (NHPs) with a single dose of CTX310 led to reductions of ANGPTL3 and triglyceride levels, which are associated with greater risk of atherosclerotic CVD. Similarly, treatment of NHPs with a single dose of CTX320 led to a reduction in plasma lipoprotein(a) (Lp[a]), considered to be an independent risk factor of atherosclerosis and related diseases.
According to the firm, the data show that the reductions were durable past a year post treatment for both therapies. Both CTX310 and CTX320 were well-tolerated in NHPs.
"We're excited to share these preclinical data at AHA highlighting the progress made across our in vivo programs targeting ANGPTL3 and Lp(a). The findings demonstrate the potential of a one-time treatment to produce clinically meaningful, long-lasting reductions in risk factors for atherosclerotic cardiovascular disease," Dr. Phuong Khanh (P.K.) Morrow, chief medical officer at CRISPR Therapeutics, said in a statement. "These data increase our confidence in our goal to shift the treatment paradigm for patients at risk of cardiovascular disease away from burdensome chronic care to a potentially one-time, durable therapy."
Based in Zug, Switzerland, CRISPR Therapeutics has developed therapeutic programs across a range of disease areas, including hemoglobinopathies, oncology, and cardiometabolic diseases. The firm has established strategic partnerships with companies including Bayer, Vertex Pharmaceuticals, and ViaCyte (acquired by Vertex in 2022).
The company's collaboration with Vertex has yielded exagamglogene autotemcel (exa-cel), a treatment for sickle cell disease that recently underwent U.S. Food and Drug Administration (FDA) advisory committee review and may become the first CRISPR treatment to receive FDA approval, with the decision to be made by December 8.