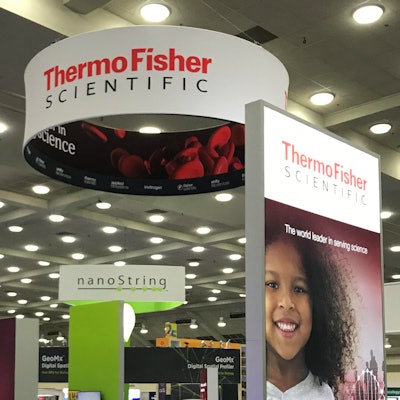 After an on-and-off courtship, Thermo Fisher Scientific announced it is set to acquire Qiagen in a deal worth $11.5 billion. The transaction will give Thermo Fisher access to Qiagen's molecular diagnostics expertise and potentially lead to faster development of diagnostic tests.
The deal values Qiagen at 39 euros ($44) per share, which is 23% higher than its closing price on March 2.
Thermo Fisher said the deal will expand its specialty diagnostics portfolio by adding Qiagen's capabilities in molecular diagnostics. Thermo Fisher's strengths include next-generation sequencing (NGS) and quantitative polymerase chain reaction (qPCR) technologies, while Qiagen markets molecular diagnostics for infectious diseases. In an investor briefing on March 3, Thermo Fisher explained how the companies' offerings are complementary (see table).
"The combined company will accelerate the development of higher-specificity, faster and more comprehensive tests that may improve patient outcomes and reduce the cost of care," Thermo Fisher said in a statement.
Qiagen products will benefit from Thermo Fisher's commercial and geographic reach. In 2019, Qiagen reported revenue of $1.526 billion in 2019, up by 4% after currency adjustments from 2018. The company reported a loss for the year of $41.5 million, compared with net income of $190.4 million in 2018.
Complementary diagnostic products offered by Thermo Fisher, Qiagen
Thermo Fisher
Qiagen
Benefits of combination

Allergy and autoimmunity
Transplant diagnostics

QuantiFeron-TB Gold Plus latent tuberculosis detection test

Increased access to a more comprehensive specialty diagnostics portfolio

Genetic analysis technologies (including qPCR, NGS, Sanger, and microarrays)

Molecular diagnostics for infectious disease (QIAsymphony)
Syndromic testing capability (QIAstat)
Companion diagnostics offering
Bioinformatics capabilities

Higher-value diagnostic insights (accuracy, speed)
Improved healthcare economics
Source: Thermo Fisher investor presentation.
Thermo Fisher's interest in acquiring Qiagen was publicized in a Bloomberg report in November, boosting Qiagen's value to $8.3 billion. At the time, Qiagen said it was considering offers from multiple suitors and reviewing what would make the most sense strategically. However, in January, Qiagen said the options were not compelling and that all discussions regarding an acquisition had been terminated.
Broad reach
The deal will affect several fields, such as lab instrumentation, next-generation sequencing, and pharmaceutical research.
Qiagen has made a number of acquisitions that expanded its position in molecular diagnostics, and it includes tests in just about every facet of molecular testing: automated DNA sample processing, molecular HPV testing, companion test development, liquid biopsy, NGS automation, and, last but not least, digital PCR, commented Bruce Carlson, publisher of Kalorama Information, a sister company of LabPulse.com.
Qiagen has several deals with pharmaceutical companies in place and creates greater opportunity in personalized medicine for Thermo Fisher. Qiagen is developing a pipeline of assays for preventive screening and diagnostic profiling of diseases and the detection of biomarkers to guide precision medicine in cancer and other conditions, Carlson commented.
In terms of IVD company rankings, Thermo Fisher is the fifth largest and Qiagen ranks No. 10, according to Kalorama estimates. The combined company would have $4 billion to $5 billion in IVD-related revenue. The top four -- Roche, Abbott, Danaher, and Siemens -- are very large, but the new entity would be competitive and could change positions, Carlson said.
The deal is expected to close in the first half of next year.