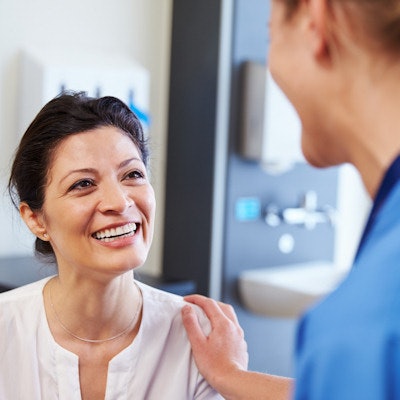 Patients generally approve of getting general medical screening -- including blood pressure tests and lab tests -- at their dentists' offices, according to a new study. The results support a broader role for dentists in identifying conditions in high-risk patients.
In the survey of 573 people, 89% were willing to have their dentist take their blood pressure and 82.9% were willing to undergo lab investigations for medical conditions, researchers from Saudi Arabia reported in a paper published February 2 in the open-access journal Dovepress.
"In accordance with the findings of other studies, we found that a large percentage of the participants were willing to undergo blood pressure examination, laboratory tests, saliva sample collection, and discussion of the results with the dentist," wrote the group, led by Dr. Azizah Bin Mubayrik of King Saud University in Riyadh. "Laboratory test findings and physician referrals were found to be of significance and fulfill the responsibilities of dentists toward their patients."
The study was conducted to determine whether patients are on board with getting more of their healthcare needs met at dental offices. Research has suggested a good reception for dentists offering screening for chronic conditions such as diabetes and heart disease, but there has been less clarity about how it would work for a broader range of conditions and limited data for Saudi Arabia specifically.
While there are many potential benefits of "chairside" dental screenings and laboratory investigations, it's crucial for patients to be on board, the authors suggested.
"Implementing this strategy can assist in the early diagnosis and prevention of diseases and complications or delaying their occurrence," they wrote. "However, patients should receive adequate medical education about these conditions and dental clinic screening."
The survey included questions about demographics and willingness to get particular tests as well. It was in the Arabic language and was distributed through Twitter, WhatsApp, and other social media outlets. The survey took about five minutes to complete, and most respondents were younger than 51 years.
Most of the participants had been to the dentist previously (96.9%) and did not have experience receiving medical consultations (83.8%) in this setting. The researchers found the greatest willingness for respondents to undergo evaluations of blood pressure (89%), hypertension screening (85.7%), and diabetes screening (83.1%). Respondents were also open to lab tests, including sampling of blood and saliva specimens. They reported less willingness to undergo AIDS tests (68.9%) and simple biopsies (54.6%).
Willingness to undergo testing at dental offices in Saudi Arabia survey
Evaluation/service
Very willing (%)
Willing (%)
Total willing (%)
Blood pressure
65.6%
23.4%
89%
Hypertension screening
63%
22.7%
85.7%
Diabetes screening
58.1%
25%
83.1%
Lab investigations
57.8%
25.1%
82.9%
Saliva sample
48.7%
27.1%
75.8%
Blood sample
52.4%
22%
74.4%
Heart disease screening
46.2%
23.4%
69.6%
AIDS test
51.1%
17.8%
68.9%
Biopsies
36.6%
18%
54.6%
An analysis of demographic data showed that respondents between the ages of 41 and 50 were more likely to want screening than those ages 20 to 30 years. Prior experience with general medical care -- a consultation, referral, or biopsy -- at the dental office was also associated with greater willingness.
"This may indicate that patient education and involvement are necessary to appreciate the advantages of this strategy," Bin Mubayrik and colleagues wrote. "Studies have demonstrated that patient education increases compliance and improves oral health."
The authors stressed the need for training in medical screening in the dental curriculum and through continuing medical education.
"There is a strong need to emphasize the benefits of increased cooperation between dentistry and other [healthcare] professions," they suggested. "To obtain more acceptance of chairside screening, community education programs should be implemented."