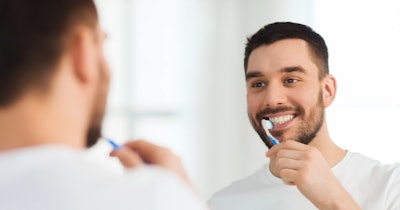 Researchers from the University of Birmingham in the U.K. are developing a dental probe, which is believed to be the first of its kind, that can quickly identify periodontal disease and its severity from a saliva sample.
The device allows for quick and easy detection of gum disease in point-of-care settings, such as pharmacies. Its development may lead to opportunities for improved monitoring and early intervention in patients with comorbidities, including diabetes and heart disease, who would benefit greatly from rapid periodontal treatment, according to the university.
"This will benefit not only dental health, but also reduce costs and capture patients for whom periodontal treatment may, in the long run, be life-saving," Dr. Melissa Grant, of the university's dental school, said in the release.
To detect periodontitis from saliva, a specialized probe and a detector, which provides a quantitative measurement of specific biomarkers that indicate both the presence of gum disease and its severity, would be used.
In April, a team of researchers from the university's Periodontal Research Group identified and validated the biomarker panel in gingival crevicular fluid and saliva samples. The research, which was published in the Journal of Clinical Periodontology, revealed biomarker panels that contained four proteins (matrix metalloproteinase-9, S100A8, alpha-1-acid glycoprotein, and pyruvate kinase), as well as with and without age as a further parameter, that could distinguish between optimal periodontal health and disease states.
Based on the findings, the researchers were awarded funding from the Engineering and Physical Sciences Research Council, which is the primary funding entity for this type of research in the U.K., to develop a prototype of the new device. The device is expected to be available within a year, according to the release.
In the long term, the researchers expect to develop a probe that is small enough to be inserted into the space between gums and teeth, allowing dentists to collect fluid from specific areas to identify infection sites, the researchers said in the release.
The university has already filed patent applications for the probe and the detector, as well as their use in disease detection and monitoring. Researchers hope to collaborate on device development or license the technology with interested companies.