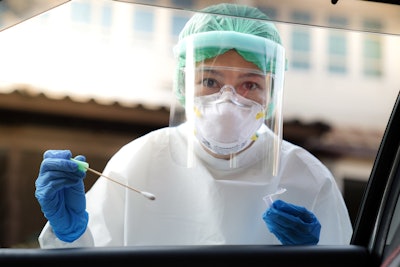 Roche Diagnostics on Thursday announced the rebranding of its COVID-19 At-Home Test, naming it the Pilot COVID-19 At-Home Test and making it available in CVS Pharmacy stores and online at cvs.com, Amazon, and in the Optum Store.
The Pilot COVID-19 At-Home Test became the first over-the-counter test to detect SARS-CoV-2 after it received Emergency Use Authorization (EUA) from the U.S. Food and Drug Administration (FDA) on December 24, 2021.
Roche began distributing the test, which is manufactured by SD Biosensor, following the EUA.
The Pilot test is intended for nonprescription home use within the first six days of symptom onset, as well as for nonprescription home use, with or without symptoms, when testing twice over three days with at least 24 hours between tests.
It is a rapid chromatographic immunoassay for the qualitative detection of the nucleocapsid protein of SARS-CoV-2, which may be present in self-collected anterior nasal swab samples.
A prospective clinical study demonstrated that the Pilot test had a relative sensitivity of 93.2%, and a relative specificity of 100%, Roche said.
Individuals 14 years and older may use the test to self-collect and self-test for the virus, and adults may use the test for children ages 2 to 13 years old, Roche said, adding that test results are available within 20 minutes of collection.
Roche added that SARS-CoV-2 variant type, including Omicron BA.1, BA.2, BA.4, and BA.5, should not impact the test's performance.