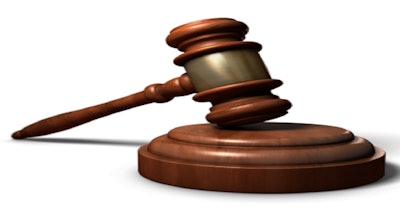 Three former executives of Magellan Diagnostics, a subsidiary of Meridian Bioscience, have been charged with concealing a device malfunction that allegedly caused inaccurate lead test results for tens of thousands of children and other patients, the U.S. Department of Justice (DOJ) Attorney's Office for the District of Massachusetts said Wednesday.
The DOJ office charged Magellan's former CEO Amy Winslow, former chief operating officer (COO) Hossein Maleknia, and former director of quality assurance and regulatory affairs Reba Daoust.
Specifically, the executives were charged with conspiracy to commit wire fraud, wire fraud, conspiracy to defraud an agency of the United States, and introduction of misbranded medical devices into interstate commerce with intent to defraud and mislead, DOJ said.
Magellan, a medical device company headquartered in Billerica, MA, was acquired by Meridian Bioscience in 2016.
"We allege that these defendants deceived customers and the [U.S. Food and Drug Administration (FDA)] about the reliability of medical tests that detected lead levels," United States Attorney Rachael Rollins said in a statement. "By doing so, we assert that they endangered the health and lives of incredibly vulnerable victims."
On Wednesday, Winslow and Daoust were scheduled to appear in a federal court in Boston, while Maleknia was scheduled to appear in a federal court in Tampa, FL.
Magellan's devices – LeadCare Ultra, LeadCare II, and LeadCare Plus – detected lead levels and lead poisoning in the blood of children and adults using either venous or finger-stick samples.
LeadCare II, which was predominantly used to test finger-stick samples, accounted for more than half of all blood lead tests conducted in the U.S. from 2013 through 2017, DOJ said, adding that LeadCare Plus and LeadCare Ultra were predominantly used to test venous samples.
According to the indictment, Winslow, Maleknia, and Daoust allegedly misled Magellan customers and the U.S. Food and Drug Administration (FDA) about a serious malfunction that affected the accuracy of Magellan's LeadCare devices used to test venous blood samples. "The defendants caused an estimated tens of thousands of children and other patients to receive inaccurately low lead test results," DOJ said in a statement.
In a separate statement on Wednesday, Cincinnati-based Meridian Bioscience, which develops and markets life science and clinical diagnostics products, noted that neither it nor its subsidiaries are defendants. "As previously disclosed, Meridian and Magellan have cooperated extensively with federal authorities in the investigation that led to these charges, and we have been and will continue to engage in resolution discussions with the Department of Justice," the firm said.
In February, the FDA announced that Magellan had recalled its LeadCare II, LeadCare Plus, and LeadCare Ultra Blood Lead Tests due to a significant risk of falsely low results. "The FDA has significant concerns that the performance of the test may provide falsely low results and may lead to health risks in special populations such as young children and pregnant individuals," the agency said then in a statement.
The agency noted that Magellan resumed distribution of its LeadCare II test kits in February 2022, and resumed distribution of its LeadCare Plus and LeadCare Ultra test kits in October 2022. The recall applied only to lot codes for products distributed prior to 2022.
"All of the company's current products from the LeadCare line are FDA cleared and will remain available for clinical use," Meridian Bioscience said.