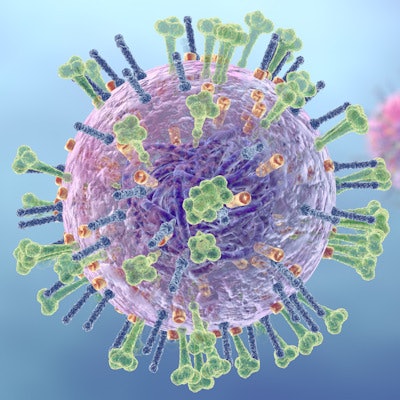 While the world remains focused on the coronavirus pandemic, other emerging infectious diseases are also circulating and are public health threats. Clinical laboratories should remain aware of the variety of infectious diseases that are becoming more common in developed countries thanks to globalization, climate change, and other factors.
As of March 16, the World Health Organization (WHO) had reported more than 137,000 confirmed cases and over 6,600 deaths worldwide from COVID-19, the respiratory disease caused by the SARS-CoV-2 virus. The diagnostics industry is rising to the challenge presented by the coronavirus pandemic, with test developers creating new assays to detect SARS-CoV-2 infection as lab operators ramp up throughput to meet skyrocketing demand.
But as the coronavirus pandemic grabs the spotlight, a variety of infectious diseases remain in circulation -- and many of them are getting closer to the developed world, if they aren't already here.
Flu pandemics are not new
Flu pandemics are not new, and history indicates that a flu pandemic emerges every 35 to 40 years. While the current coronavirus pandemic is worrisome and has disrupted normal life, it will likely follow its course and then subside. Normally, flu pandemics (the most common) come and go and are often forgotten -- until the next one.
The first recorded documented pandemic is the 1918-1919 Spanish flu, which caused an estimated 40 million to 50 million deaths and lasted until 1920. The epidemic of 1968 claimed an estimated 1 million lives worldwide. All of these took the world by surprise.
Since 1968, world public health professionals have been watching the warning signs that another pandemic may be on its way -- but they still tend to take us by surprise. In fact, public health professionals remark that we are still woefully unprepared for new pandemics.
The influenza virus continues to mutate, changing host and virulence over time. Since emerging in 1997, the supervirulent H5N1 strain of avian flu and its cousins have had a disastrous effect on wild bird flocks and poultry farms worldwide. The virus then resurfaced and killed 62 people in four Asian countries from December 2003 to October 2005.
In June 2009, the WHO declared the first flu pandemic in 41 years. The 2009 "swine flu" epidemic was due to infection with the H1N1 virus and was first observed in Mexico. It began increasing during the summer of 2009 and rapidly spread to the U.S. and to Europe and eventually worldwide. By November 2009, the WHO stated that the H1N1 virus had been found in more than 206 countries and territories, with 503,536 confirmed cases including more than 6,250 deaths.
Globalization has made the world a smaller place in a very short amount of time. There are numerous reports of the spread of imported diseases such as Lyme, dengue, Chagas, and malaria to regions where they were not usually present. Global travel and trade and climate change are expanding the habitats of mosquitoes, which carry many vector-borne infectious diseases far and wide. This is resulting in increased mosquito density and the spread of mosquito-borne infections such as malaria, dengue, Chagas, and chikungunya. So now these tropical diseases and other viral infections are on the doorsteps of Europe and North America.
Of the seven biggest killers worldwide, tuberculosis (TB), malaria, hepatitis, and, in particular, HIV/AIDS continue to surge, with HIV/AIDS and TB likely to account for the overwhelming majority of deaths from infectious diseases in developing countries in 2020. Acute lower respiratory infections, including pneumonia and influenza; sexually transmitted diseases (STDs); diarrheal diseases; and measles are also major public global health problems.
The U.S. National Institute of Allergy and Infectious Diseases has alerted U.S. physicians to be on the lookout for dengue fever, a tropical disease that has exploded in South and Central America and across much of Asia in recent years. The mosquito (Aedes aegypti) that carries dengue fever and yellow fever, for example, entered the U.S. in 1985 inside used tires shipped from Asia.
Further, Aedes albopictus, a secondary dengue vector in Asia, has spread to North America and Europe largely due to the international trade in used tires (a breeding habitat) and other goods (e.g., lucky bamboo). The mosquito is highly adaptive and therefore can survive in cooler temperate regions of Europe and North America. Some models published in the medical and scientific literature suggest that tropical diseases such as Chagas, which spreads in Latin America through the feces of a beetle, and leishmaniasis, carried by sandflies, are beginning to find niches in the U.S. and Europe.
In a weird twist of fate, the crisis in emerging infectious diseases is bringing the plight of the developing world to the attention of richer countries and global health organizations. Tests developed for developing countries are gaining in perceived value because they fulfill a huge need there, but also because they can be used to address the need of decentralized testing in resource-poor areas in developed countries.
Thus, while it is imperative to have rapid and efficient tests for countries in the developing world, healthcare providers in developed countries can also benefit. The situation in developed countries is probably less urgent for the tropical diseases, but it is equally important to have better rapid tests for hepatitis, HIV, tuberculosis, and sexually transmissible diseases worldwide. Private and public funds are pouring dollars into countries' public health efforts to stem the tide of diseases such as HIV, tuberculosis, and malaria.
While there is a preoccupation in the media with public health problems in the developing world, it has been easy to overlook some of the significant public health challenges that still exist in industrialized countries. One major disease group still relevant in the developed world -- and especially among the 15-to-35 age group -- is HIV and sexually transmitted diseases. In the U.S., community health organizations have mounted a serious attack on STDs, with screening programs held in shopping centers, clinics, and parks.
Is globalization hazardous to your health?
As we can now certainly attest, globalization is proving hazardous to the health of citizens worldwide, according to a report titled "America's Vital Interest in Global Health," published by the National Academy of Sciences (NAS). The report concludes that globalization -- the enormous increase in cross-border trade and travel -- is making it much easier for new and reemerging diseases to spread quickly to the U.S., Europe, and other developed countries. These viruses are not emerging in the classical sense; they have always been around, but their geographical sphere of incidence has become more widespread.
As a result, the NAS report calls for diagnostics companies to invest in biomedical technology and research and development to tackle some of the world's worst health problems. In particular, new mechanisms must be found to encourage the development of effective tests that are appropriate for use in resource-poor settings. Companies and international funding groups have taken up the challenge, including the Clinton HIV/AIDS Initiative; Roll Back Malaria; the Joint United Nations Programme on HIV/AIDS (UNAIDS); the U.S. President's Emergency Plan for Aids Relief (PEPFAR); the Global Fund to Fight AIDS, Tuberculosis and Malaria; and the Foundation for Innovative New Diagnostics (FIND).
As governments and healthcare systems around the world mobilize to fight the coronavirus, it's important to remember that threats from other infectious diseases still exist. Hopefully, we will be able to put the lessons we learn in the coronavirus battle to good use in the fight against these threats, both present and future.
Shara Rosen is a market analyst for market research firm Kalorama Information. Kalorama's infectious disease report covers the market for diagnostic tests for infectious diseases.
Disclosure notice: LabPulse.com is a sister company of Kalorama Information.