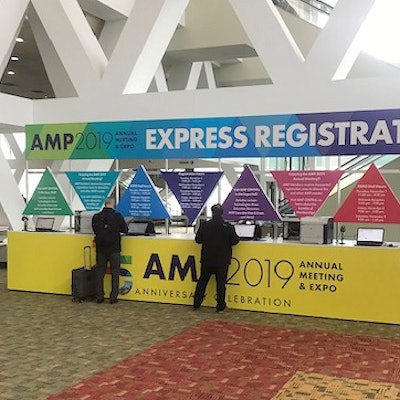 Faster detection and treatment selection in cancer was a dominant theme in the exhibits and scientific sessions at the Association for Molecular Pathology (AMP) annual meeting, which ran from November 7-9 in Baltimore.
Numerous innovations for cancer detection and monitoring were on display, and these often involved the mixing and matching of proven technologies, as well as speed-driven workflow boosts. Exhibits included innovations in high-speed sequencing, the detection and removal of contaminated pipettes, and protein morphologic visibility.
Agena Bioscience showcased its combined real-time polymerase chain reaction (RT-PCR) and mass spectrometry instrumentation. The company's UltraSeek chemistry was designed to be an economical method for validating mutations of interest identified through next-generation sequencing (NGS) and RT-PCR to confirm or rule out borderline results. The company said that after whole-exome sequencing results are produced, targeted detection on the MassArray system has been proved to confirm low threshold mutations.
NanoString demonstrated its immunofluorescence-based GeoMx Digital Spatial Profiler (DSP). The system combines standard immunofluorescence techniques with digital optical barcoding technology to perform highly multiplexed, spatially resolved profiling experiments. The company said the system can capture tissue morphology and select regions of interest for high-plex profiling, and that this increases the likelihood of capturing rare events often missed by typical "grind and bind" assays.
Ion Torrent Genexus demo
A fair number of pathologists, researchers, and lab directors at the meeting found their way to the booth of Thermo Fisher Scientific for a demonstration of the company's new Ion Torrent Genexus system. Andy Felton, vice president of product development, highlighted design characteristics that boost speed and IT features such as reporting and documentation of all aspects of the sample run.
The system relies on greatly improved clonal application, reducing that step in the process from 14 to three hours. Its reporting provides two levels of detail: one is a basic report that oncologists can show to patients, while the other is more detailed, with information about the clinical significance of results. The product has not yet undergone review by the U.S. Food and Drug Administration. The system is expected to cost $290,000, with sample costs varying but being in the range of several hundred dollars per sample.
Workflow affects the time to results, and it is not surprising that methods for improvement were on display. Purigen Biosystems announced the launch of its Ionic purification system. The small benchtop system utilizes the company's core isotachophoresis technology to extract, purify, and concentrate nucleic acids from biological samples in one hour, with less than three minutes of hands-on time per sample. The Ionic system then applies an electric field to the chip and the nucleic acids are isolated with no denaturing or dehydration. The process minimizes fragmentation and eliminates any bead or buffer contamination, according to the company.
Sophia Genetics displayed the new version of its Whole Exome Solution, following its unveiling at the American Society of Human Genetics annual meeting in October. Exome analysis presents a number of challenges. Copy number variations (CNVs), for instance, are hard to judge with exome sequencing -- yet they are responsible for 35% of pathogenic variants. The company claims that its 2-5 exon high-resolution system offers CNV detection in a single workflow, without the need for reference samples, thereby increasing turnaround time.
ARUP Laboratories featured its imatinib adherence therapeutic drug monitoring test for chronic myelogenous leukemia and gastrointestinal stromal tumor patients being treated with the tyrosine kinase inhibitor imatinib (Gleevec, Novartis).
Breath test collaboration
Thermo Fisher announced a new collaboration with Owlstone Medical to develop Owlstone's Breath Biopsy to advance the early diagnosis of cancer and other diseases through the discovery and validation of novel biomarkers. The partnership will qualify Thermo Fisher's leading mass analyzers for the detection of new biomarkers via a validated discovery and routine analysis project. These new analytical methods will be used to conduct metabolomics studies of breath samples for unique biomarkers that could translate into noninvasive, routine screening solutions.
Spotlight on infectious disease
While the greater part of the AMP meeting's focus was on oncology, advances in infectious disease diagnostics were also noteworthy.
Karius featured its advanced quality control (QC) system for clinical metagenomic sequencing assays that can find contaminations before they affect a result. Most QC systems monitor a handful of measurements that are recommended by practice guidelines. However, metagenomic sequencing for infectious disease diagnostics must be robust to a broader range of biases, including those arising from environmental contaminants, and require additional QC measurements compared to a standard NGS assay.
Karius presented an automated QC framework that monitors thousands of metrics, such as the presence of microbial DNA in reagents, across space and time and identifies aberrations that are statistically significant. For instance, a contaminated pipette could result in detectable aberrations, allowing elimination of the threat before patient results are affected.
Quidel featured its Solana box-shaped molecular instrument, as well as its partnership with EntericBio. EntericBio's molecular diagnostic test is performed on Cary-Blair preserved diarrheal specimens collected from symptomatic patients with suspected acute gastroenteritis, enteritis, or colitis of bacterial or parasitic origin. The test is performed directly on the specimen for the amplification of Salmonella enterica, Shigella/enteroinvasive Escherichia coli (EIEC), and Campylobacter species, among other threats.
Ceres Nanosciences announced the creation of its Nanotrap virus capture kit. The kit concentrates viruses from complex biological matrices to have high-quality input material for downstream analytical methods.
Polymerase chain reaction technology is the bread and butter of molecular diagnostics, and AMP gave its highest honor -- the Award for Excellence in Molecular Diagnostics -- to noted PCR pioneer Russell Higuchi, PhD, an R&D fellow at Cepheid. Higuchi is an inventor on 13 different issued U.S. patents; he is the sole inventor on the first method and instrument patents for real-time PCR.
Overall, the meeting highlighted the continued focus on disease detection and mutation identification at the molecular level. Kalorama Information has estimated that the molecular diagnostic market is worth some $8.7 billion.
Bruce Carlson is the publisher of Kalorama Information, part of Science and Medicine Group.
Disclosure: LabPulse.com is a sister company of Kalorama Information.