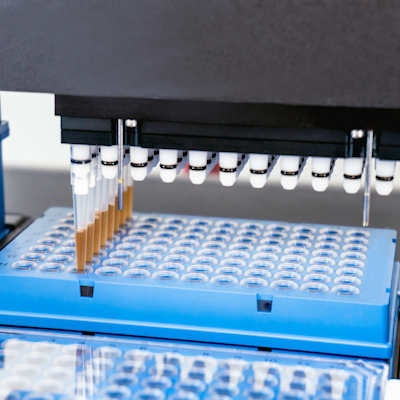 The new COVID-19 landscape combined with the arduous shifts in healthcare staffing further supports the integration of automation in diagnostics. While automated diagnostic systems have been available in the U.S. for the past few years, there remains untapped potential from which patients, providers, and laboratorians can benefit.
It is time to provide more advanced insight on patient health and more informed treatment options for clinicians in the U.S. Few diagnostic tools and systems on the market today are available to scale and even fewer provide extended genotyping capabilities. This gap can hamper patient care by masking or misdiagnosing illnesses and strains, potentially leading physicians to advise treatment plans that lack precision or that may be unnecessary.
Scaling up the availability of automated systems in the U.S. changes the current landscape, providing laboratories the opportunity to allow for faster, more robust, and comprehensive processes by offering a new standard of care based on volume and assay technology. Fully automated high-throughput diagnostic systems can provide a new level of diagnostic processes for infectious disease molecular testing in core and centralized laboratories across the country.
What is needed -- and perhaps overdue -- is for automated processing to be leveraged to its fullest potential to propel the state of diagnostics into the future. Remote system monitoring, redundancy of subsystems, and long walkaway times can help reduce the likelihood of human error while helping meet the demand challenges presented by staffing shortages and increased patient demand on testing resources. Integrated automation of the pre-analytical workflow as well as onboarding capacity of reagents and specimens enable delivery of several hundred more test results than a human worker can produce with limited intervention -- and in a much shorter timeframe.
Automation can also help labs enhance and standardize the quality of the results. In a recent study1, it was revealed that human medical error is the third-leading cause of death in the U.S.; 62%2,3 of diagnostic errors take place in the preanalytical stage. Lessening the likelihood of human error by leveraging robotics improves efficiency and accuracy, giving more control to laboratory scientists and medical professionals.
Laboratories faced staffing challenges even before the pandemic and the issue has only been exacerbated by the ongoing crisis. In fact, the healthcare industry is experiencing a talent shortage in every state, a trend expected to continue through 2026 at the earliest. Yet demands on labs are increasing.
Precision medicine is evolving into its future standard, where diagnostics plays an instrumental role. The use of robotics and sample management software algorithms to set a new standard in care is fast approaching. The future expectation is emerging through automation in infectious disease molecular testing for core and centralized laboratories in the U.S.
Chris Beddard is business line leader for Core MDx and Women's Health & Cancer Integrated Diagnostic Solutions at BD.
The comments and observations expressed are those of the author and do not necessarily reflect the opinions of LabPulse.com.
References
Makary MA, Daniel M. Medical error-the third leading cause of death in the US.BMJ. 2016;353:i2139. doi:10.1136/bmj.i2139.
Carraro P, Plebani M. Errors in a stat laboratory: types and frequencies 10 years later. Clin Chem. 2007;53(7):1338-1342. doi:10.1373/clinchem.2007.088344.
Wians, FH. Clinical laboratory tests: which, why, and what do the results mean?Lab Med.2009:40(2)105-113.