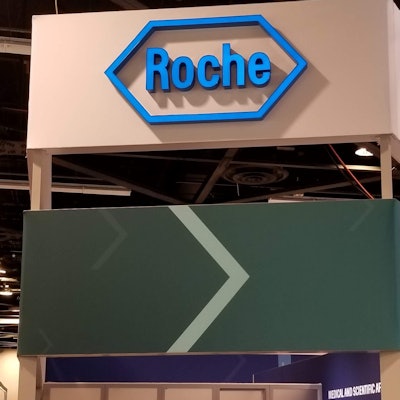 The distribution of COVID-19 vaccines has prompted diagnostics developers to focus on how they can continue to contribute once vaccines render millions of potential COVID-19 patients immune. Diagnostic tests and COVID-19 vaccines should work beneficially together, according to executives from Roche during a press briefing at the virtual American Association for Clinical Chemistry (AACC) meeting.
In the December 14 briefing, Roche executives focused on lessons learned from the global healthcare crisis. Participating in the discussion were Thomas Schinecker, CEO of the company's Roche Diagnostics division; Matt Sause, president and CEO of Roche Diagnostics North America; and Dr. William Morice, PhD, president of Mayo Clinic Laboratories, a customer of Roche.
"Testing, together with vaccines is key to stopping the pandemic," Sause said.
Roche recently announced that its Elecsys Anti-SARS-CoV-2 S antibody test has received emergency use authorization (EUA) from the U.S. Food and Drug Administration (FDA). The semiquantitative serology (blood) test can be used to measure the level of antibodies in people who have been exposed to the SARS-CoV-2 virus.
The new test targets antibodies that are directed against the region of the COVID-19 spike protein, specifically the area that enables the virus cell to bind to the host cell receptor, which is required for the virus to enter the host cell. The test provides a numerical result from 0.40-250 U/mL reflecting the concentration of antibodies, as well as a qualitative result.
Roche is partnering with Moderna to include a COVID-19 antibody test in that company's ongoing vaccine trials for baselining and assessing natural infection in trial participants.
"Not all patients react the same way," said Schinecker at the briefing. "What you can do with antibody tests is find out who has antibodies and to what level, and to test the effectiveness of a vaccine after they are vaccinated."
The company says that any potential vaccine for SARS-CoV-2 would work (amongst other mechanisms) by triggering the immune response to develop neutralizing antibodies in the person receiving the vaccine. In doing so, the vaccine trains the body's immune system to recognize and fight an exposure to SARS-CoV-2, in a controlled way, without being exposed to the actual virus.
Roche executives said there would be a benefit in knowing the starting levels of antibodies a person has prior to vaccination, in order to evaluate any change in antibody levels that the vaccine induces.
The test runs on Roche's cobas e analyzers. The systems are fully automated and can provide SARS-CoV-2 test results in approximately 18 minutes, with a test throughput of up to 300 tests/hour.
In other news revealed at the briefing, Roche executives confirmed the company would apply for an EUA for its rapid point-of-care (POC) antigen test, now in trials, in the early part of 2021. They also emphasized other areas, such as their transplantation test products and cardiac markers. Roche said that it developed an array of test products from molecular to immunoassays and had added scores of manufacturing lines to its instrument and consumable production.