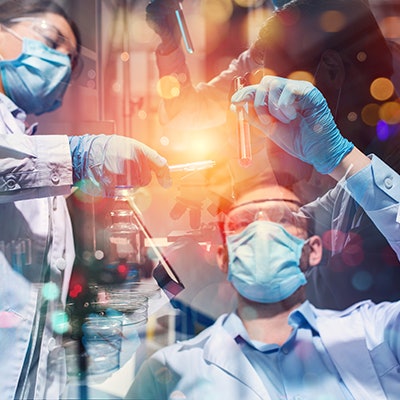 The U.S. Food and Drug Administration (FDA) has created an online guide for labs on substituting supplies needed for reverse transcription polymerase chain reaction testing for COVID-19.
Advice on use of supplies was provided in a 22-page interactive PowerPoint presentation in order "to help address availability concerns regarding certain critical components of COVID-19 diagnostic tests during this pandemic," the FDA explained in a statement on June 3. For example, it guides viewers through a range of options now available for specimen collection. Shortages of supplies have been documented by a number of professional medical organizations, most recently in a survey by the Association for Molecular Pathology.
In a section on specimen collection, the presentation noted that some transport media may contain guanidine thiocyanate, which produces a dangerous chemical reaction and causes the release of cyanide gas if exposed to bleach.These types of media may not be compatible with IVD products that do not use guanidine thiocyanate during sample processing, the agency advised. Labs should not use PrimeStore molecular transport media (Longhorn Vaccines and Diagnostics) with the Hologic Panther or Panther Fusion Systems due to a disinfecting step involving bleach that is specific to the platform, the FDA said.
The FDA followed up with a letter to laboratory staff on June 4 specifically about transport media, advising that these media must be compatible with SARS-CoV-2 testing platforms and noting the risk for release of harmful cyanide gas if they are incompatible.