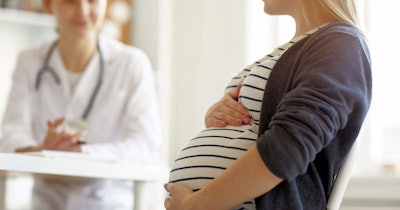 A blood test newly approved by the U.S. Food and Drug Administration (FDA) can help doctors predict more accurately and sooner whether a woman will develop severe preeclampsia during pregnancy, according to its developers.
Doctors have long relied on measuring elevated blood pressure and protein levels in the urine to determine whether a woman will develop preeclampsia. However, these tests are poor predictors of severe preeclampsia, particularly as pregnancy progresses.
The new prognostic test detects soluble fms-like tyrosine kinase 1 (sFlt1) and proangiogenic placental growth factor (PlGF), two biomarker proteins in the blood that more accurately predict poor preeclampsia outcomes. The test can be used between 23 and 35 weeks of pregnancy to predict the development of severe preeclampsia among women who have symptoms of, or have been diagnosed with, hypertension during pregnancy.
In May, the FDA granted a de novo request from Thermo Fisher Scientific, permitting it to market tests that use the biomarkers in the U.S. Plans are in place to offer it to patients at the University of Chicago Medicine.
Preeclampsia, a hypertensive disorder, affects roughly 5% of pregnant women worldwide, and is a primary cause of maternal and fetal complications, as well as premature delivery. For babies too young to deliver, doctors attempt to manage the mother's symptoms with antihypertensive medications, magnesium, and steroids.
Although preeclampsia is typically cured by delivery of the baby and placenta, its effects may be lifelong. Women with preeclampsia during pregnancy are at higher risk for short- and long-term hypertensive disorders and cardiovascular disease for the remainder of their lives.
In a 2012 study, developers of the new test, including Dr. Sarosh Rana, now chief of maternal-fetal medicine at the University of Chicago Medicine, prospectively enrolled 616 women evaluated for suspected preeclampsia. They measured plasma levels of antiangiogenic sFlt1 and PIGF at presentation for associations between the sFlt1/PlGF ratio and subsequent adverse maternal and perinatal outcomes. They concluded that, in women with suspected preeclampsia presenting at less than 34 weeks, the circulating sFlt1/PlGF ratio accurately predicted adverse outcomes occurring within two weeks.
For women who test negative and are considered low-risk, the test could mean shorter hospital stays and fewer, if any, steroid treatments. Patients deemed high-risk could be transferred to higher level care clinics better prepared to handle maternal complications and pre-term delivery. The test may also reduce pre-term delivery rates among patients with suspected, but unconfirmed, preeclampsia.
The researchers said they believe the test could also improve health disparities faced by pregnant Black women, who are 60% more likely to develop preeclampsia than pregnant white women, and who have higher preeclampsia complication rates.
The test or some of its components are currently being used in Europe, Canada, and Asia. Further research is planned to examine the real-world impact of the biomarkers in clinical practice, therapies based on angiogenic proteins, and the test's potential to reduce morbidity and mortality among women with preeclampsia.
"Doctors can use this in conjunction with other clinically available tests to stratify their patients to determine whether they're at high risk for severe preeclampsia and complications, or at low risk, to be managed appropriately," Rana noted in a statement. Rana was a key author of the study submitted to the FDA for approval of the biomarkers' clinical use.