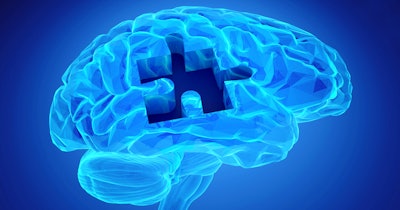 Cumulus Neuroscience is joining with two U.K. universities -- Bath and Bristol -- on the development of a test for cognition with potential as an early diagnosis tool in Alzheimer's dementia.
The partnership will look to scale the development and testing of the Fastball electroencephalogram (EEG) test. The passive three-minute test uses an EEG headset to measure brain activity while patients watch a series of flashing images displayed on a tablet or smartphone screen. It picks up subtle changes in brain waves that may occur when a person remembers an image as well as changed responses following the development of dementia. In previous research, the test has shown promise as a functional marker of cognitive impairment in Alzheimer's.
Further development follows the award of a £1.5M ($1.9M) Invention for Innovation (i4i) grant from the U.K. National Institute for Health and Care Excellence (NIHR), which was announced last week.
The Fastball EEG was developed by Dr. George Stothart, a cognitive neuroscientist at the University of Bath, who will co-lead the project with Dr. Liz Coulthard, associate professor in dementia neurology at the University of Bristol.
"We are excited to partner with the team at Cumulus Neuroscience and leverage their advanced AI-powered analytics to develop and validate this test at scale," Dr Stothart said in a statement.
The research study, which will enroll more than 1,000 patients, will include blood-based biomarkers of pathology and evidence of memory and cognitive impairment captured by the Fastball EEG test.
Brian Murphy, PhD, founder and chief scientific officer of Cumulus, said, "By removing barriers to diagnosis for all patients regardless of ethnicity or education level, Fastball EEG has the potential to accelerate enrollment in clinical trials, bringing much needed treatments to patients and their loved ones faster."