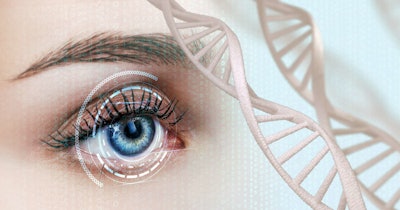 A Boston Medical Center study discovered significant connections between biomarkers present in the vitreous humor of the eye and confirmed cases of Alzheimer's disease and chronic traumatic encephalopathy.
The preliminary research, published recently in IOS Press, used post-mortem analysis of brain and eye tissue to demonstrate that vitreous humor biomarkers could indicate neurodegenerative diseases.
According to the Centers for Disease Control and Prevention (CDC) an estimated 6.5 million people in the U.S. are living with Alzheimer's disease; this number may increase to 14 million by 2060. Diagnosing Alzheimer's disease and chronic traumatic encephalopathy relies on symptoms, clinical examinations, and cognitive testing. However, only post-mortem brain examinations can provide definitive confirmation.
Pathological changes in the brain may occur decades before the onset of clinical Alzheimer's disease symptoms. By the time a patient is diagnosed, treatment effectiveness is often limited. Thus, one major research focus is the identification of measurable biomarkers that can predict Alzheimer's disease before symptoms manifest.
Previous studies established a connection between neurodegenerative diseases and ophthalmic conditions such as glaucoma, diabetic retinopathy, age-related macular degeneration, and cataracts. Notably, patients with these conditions have an elevated risk of developing Alzheimer's disease. Therefore, investigating biomarkers within this at-risk population is crucial to gaining insights into early disease detection.
This exploratory, retrospective study examined vitreous humors from 41 post-mortem eyes and brain tissue with diagnoses of Alzheimer's disease, chronic traumatic encephalopathy, both diseases, and controls with no significant neuropathology. Protein biomarkers including amyloid-β, total tau, phosphorylated tau, neurofilament light chain, and eotaxin-1 were measured by immunoassay.
The researchers discovered a correlation between neurodegenerative proteins in the vitreous fluid — specifically total tau and neurofilament light-chain — and pathologically confirmed cases of Alzheimer's disease and chronic traumatic encephalopathy. They concluded that the post-mortem vitreous humor biomarker levels significantly correlated with pathology in corresponding brains. They believe the presence of these biomarkers in the vitreous humor may serve as a proxy for neuropathological disease, and that changes occurring in the eye reflect neuropathological changes happening in the brain.
The new findings support further investigation of the role of other eye fluids in the diagnosis, prognosis, and management of diseases like Alzheimer's disease and chronic traumatic encephalopathy, and the potential for utilizing eye biomarkers to advance the understanding and treatment of neurodegenerative diseases.
"To our knowledge, this study is the first to examine the significance of vitreous fluid biomarkers and establish a connection with confirmed post-mortem brain tissue pathological examination of Alzheimer's disease. Additionally, it is the first study to identify a correlation between vitreous fluid biomarkers and confirmed chronic traumatic encephalopathy," Dr. Manju Subramanian, Boston Medical Center ophthalmologist and associate ophthalmology professor at Boston University's Chobanian & Avedisian School of Medicine, said in a statement. "Our findings contribute to the growing body of evidence supporting the potential role of vitreous biomarkers in the early diagnosis and prognosis of diseases such as Alzheimer's disease and chronic traumatic encephalopathy."