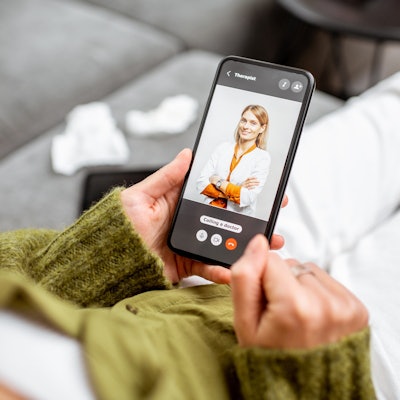 A diagnostic study conducted at various Mayo Clinic locations during the first quarantine period of the COVID-19 pandemic in the U.S. has revealed that video telemedicine was highly effective in providing accurate diagnoses of patients.
In a 90-day period from late March to late June 2020, nearly 2400 patients who underwent a video telemedicine consultation had their diagnosis match an in-person reference standard diagnosis in 86.9% of cases.
"These findings suggest that video telemedicine visits to home may be good adjuncts to in-person care," said the researchers in the paper published in the JAMA Network Open journal Health Informatics. "Primary care video telemedicine programs designed to accommodate new patients or new presenting clinical problems may benefit from a lowered threshold for timely in-person direct follow-up in patients suspected to have disease typically confirmed by physical examination, neurological testing, or pathology."
The study was conducted at Mayo Clinics across the U.S. in the midst of a telehealth boom in which its usage increased by 20-fold in the U.S. and increased by nearly 11,000% at Mayo Clinic facilities.
While analysts of telemedicine saw this explosion of usage as representing a shift in how medicine would be practiced going forward, there was little data on whether the diagnoses were accurate. This was largely due to the fact that prior to the COVID-19 pandemic, data was limited by sample size and breadth of presenting diseases.
In this wide study of nearly 2,400 patients, the median age of the patients was 53 years old (age range: 37-64); 1,381 (57.7%) identified as female, and 1,012 (42.3%) identified as male. In the study, 2,080 of the 2,393 diagnoses made (86.9%) were concordant with in-person reference standard diagnoses.
Those who were given telemedicine consultation had to have an in-person follow up visit in the same clinical department for the same indication within 90 days of the telemedicine consultation.
"The size of our patient cohort, the breadth of medical and surgical practices, the use of multiple independent blinded medical reviewers, and the individualized methods we used to analyze data allowed for a high degree of confidence in the reported diagnostic concordance of telemedicine video consults," reported the researchers in the published paper.
One of the more important findings of the study, according to the researchers, was the difference between the high concordance of specialty care and the lower concordance of primary care. In specialty care cases, there was a concordance of 88.4% (1,675 of 1,895 cases); in primary care cases, the concordance dropped to 81.3% (405 of 498 cases).
Based on the lower concordance of primary care diagnosis, the researchers suggest telemedicine designed for new patients or those presenting new clinical problems may benefit from having an in-person follow-up sooner, especially for diseases that are typically confirmed by physical examination, neurological testing, or pathology.
While the researchers believe that their study was broader than previous studies, they conceded that the group of patients under study who came back for an in-person visit within 90 days for the same indication may not be fully representative of all patients undergoing a video telemedicine visit for a new clinical indication.
Furthermore, they argue that the number of telemedicine patients who did not return for an in-person visit, returned for another indication, or returned to a different department is not necessarily indicative of inaccurate diagnosis. The converse, in fact, may be the case.
They added in their report: "It is not unreasonable to assume that patients and clinicians most satisfied with the assessment and outcome of a video telemedicine visit for a straightforward and non-complex clinical issue during COVID-19 may have been less likely to schedule an in-person visit to follow up."