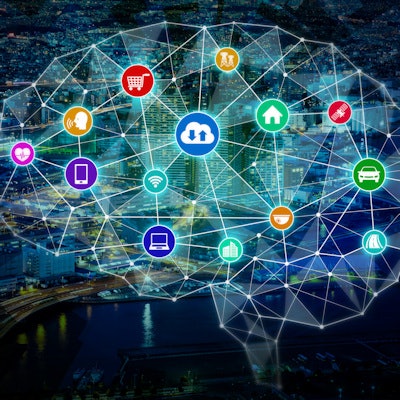 The global market for artificial intelligence (AI) in healthcare is worth an estimated $1.9 billion, generated largely by sales in the workflow solutions market segment, followed by population health management. The market is expected to keep pace with overall AI market growth, reaching $11.4 billion by 2024, according to Kalorama Information's new report on the market for AI in healthcare.
Population health, workflow improvements, diagnostics, and risk assessment are among the areas where artificial intelligence is already being deployed.
Algorithms help laboratory personnel and physicians make comprehensive diagnoses more quickly and promise to speed up workflow and provide faster turnaround. By embracing digitalization, AI algorithms, and machine learning, pathologists can cut down on potential errors and leave more time for human analysis.
Innovations that have revolutionized pathology include whole slide imaging, which involves scanning a complete microscope slide and generating a high-resolution file. The ability to read a whole slide image visually annotated and enriched with information from AI algorithms based on huge datasets from prior case histories will provide a faster and more accurate diagnosis.
In May, RenalytixAI's KidneyIntelX, which is being developed jointly with the Mount Sinai Health System, was designated as a breakthrough device by the U.S. Food and Drug Administration. KidneyIntelX is designed to diagnose and improve the clinical management of patients with type 2 diabetes; it leverages machine-learning algorithms to assess a combination of predictive blood-based biomarkers -- along with electronic health record information -- to identify progressive kidney disease.
Other examples of AI in healthcare reviewed in the report include the following:
Copan Diagnostics' AI culture plate analysis: Copan's phenotypic colony recognition algorithm examines colonies present on a plate and compares them against a library of thousands of colony images to match the phenotypic characteristics and assign a predictive value. The physician confirms the presumptive identification assigned by the software and performs further workup.
GE Healthcare's hospital command centers: GE Healthcare is collaborating with hospital service providers in Europe and the U.S. to implement an AI-powered command center to synchronize all elements of a patient's hospital experience. Advanced algorithms will help staff anticipate and resolve bottlenecks in care delivery before they occur, recommending actions to enable faster, more responsive patient care and better allocation of resources.
Freenome's multiomics tests: Freenome's technology platform enables the detection of key biological signals from a routine blood draw. It integrates assays for cell-free DNA, methylation, and proteins with advanced computational biology and machine-learning techniques to identify additive signatures that improve the accuracy for early cancer detection. Freenome plans to get its colorectal cancer screening blood test through a validation study and expand its blood-based, AI-driven testing platform into other tumor types, as well as other disease areas, with the help of $160 million raised in a series B financing round in July.
ARUP-Techcyte parasitology tie-up: U.S. reference laboratory ARUP Laboratories and AI developer Techcyte have co-developed an AI-augmented tool for improved detection of parasites and ova. The tool was designed to advance diagnostic capabilities at the parasitology lab of ARUP, a nonprofit arm of the University of Utah, and will allow for quicker turnaround times, lower costs, and improved patient care. The companies also said the new technology will mean less eye fatigue and neuromuscular tension for lab workers. Because the tool quickly screens out negative results, workers spend less time looking through microscopes and more time analyzing results.
CompCyst for pancreatic findings: An AI-based test called CompCyst (comprehensive cyst) has been developed to evaluate pancreatic cysts and determine which cases require surgery versus noninvasive monitoring. The test incorporates mutation status, loss of heterozygosity, aneuploidy, protein markers, and clinical data. Data supporting the test were published in July. CompCyst was developed at Johns Hopkins and has been licensed to Thrive Earlier Detection, a new company based in Cambridge, MA.
Bruce Carlson is the publisher of Kalorama Information, part of Science and Medicine Group. More information is available in Kalorama's report on AI.
Disclosure: LabPulse.com is a sister company of Kalorama Information.