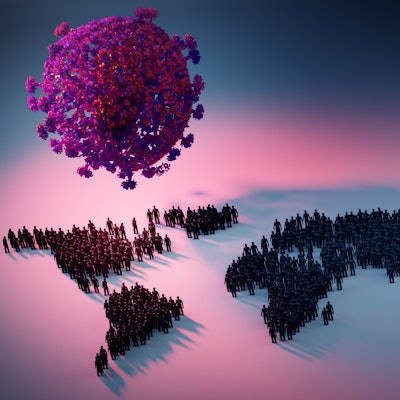 Siemens Healthineers has begun shipping its total COVID-19 antibody test kits worldwide and has also received emergency use authorization (EUA) from the U.S. Food and Drug Administration (FDA) for its molecular SARS-CoV-2 detection test kit.
The company said that its COVID-19 total antibody test kit can identify both SARS-CoV-2 immunoglobulin M (IgM) and immunoglobulin G (IgG) antibodies in blood with 100% sensitivity and 99.8% specificity. It will be available on Siemens' systems such as the Atellica immunoassay analyzer, which can run up to 440 tests per hour and generate results in 10 minutes, the company said. Furthermore, it can also be used on the firm's Advia Centaur XP and XPT analyzers, which can test up to 240 samples per hour and provide results in 18 minutes, Siemens said.
The company is also pursuing EUA from the FDA for the antibody test, having already received the CE Mark in Europe. Siemens expects to have capacity to support 50 million tests per month across its platforms beginning in June. The company also plans to develop a test for just the IgG antibody.
In related news, Siemens has received EUA for its real-time polymerase chain reaction (PCR) molecular SARS-CoV-2 detection test kit. It plans to ship more than 2.5 million PCR tests each month as production capacity increases.
Compatible with many lab platforms, the PCR test evaluates two targets in one test tube, enabling detection of two genes with less test preparation, according to the vendor. Results can be available in two to three hours, depending on the molecular system and the amount of lab resources that are utilized, Siemens said.
More than 500,000 of the molecular tests have been sold so far in Europe, according to the vendor.