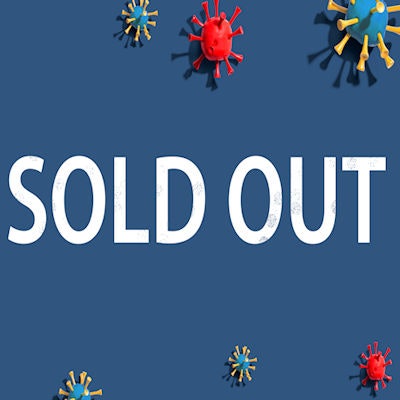 U.S. labs continue to be short of supplies needed for COVID-19 molecular testing, according to a June survey by the College of American Pathologists (CAP). The survey also documented loss of hours and pay for lab professionals and a rise in burnout.
Shortages of COVID-19 tests themselves and supplies for testing have been big problems during the public health emergency. Officials in the White House Coronavirus Task Force have said that they would ensure labs had the products they needed amid disruptions in the supply chain.
During a June 30 press briefing, Admiral Dr. Brett Giroir, assistant secretary of health, presented a rosy picture of testing in the U.S., noting that from 550,000 to 600,000 tests are being conducted every day now, compared with only a few thousand daily in early March.
"And I think all of you know there's some components to this," Giroir said. "There's ... the front end -- somebody to take the swab or to supervise you doing that swab. You got to have the supplies there, you got to have the machines, and you got to have the laboratory tests."
However, there are signs that all is not well. Quest Diagnostics just reported that daily test orders have outstripped its testing capacity and that it would need help from manufacturers to ensure it had the supplies needed to reach its target of 150,000 tests per day.
CAP reported results from an online survey of lab directors in June that found the lack of supplies for COVID-19 testing is a persistent problem -- slightly improved, but in line with findings from a similar survey in April. In the June survey, 64% reported difficulty in acquiring reagents for platforms and test kits, compared with 69% of respondents in April. There were also continued difficulties in acquiring nasopharyngeal swabs for collection and transport of patient samples, and transport media.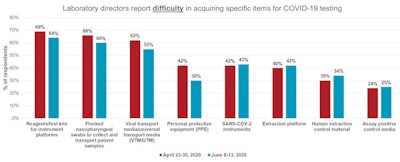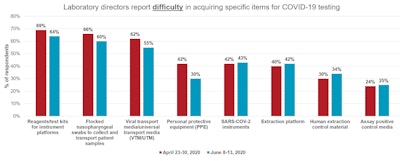 Furthermore, 70% of respondents in June -- down slightly from 79% in April -- reported that they could be doing more COVID-19 testing.
"In both the April and June CAP surveys, substantial numbers of laboratory directors reported that they had excess capacity -- that is, their average daily testing capacity exceeded their average daily test volume," CAP reported.
Got people, lack supplies
The survey results reflect experience in known, accredited labs and are useful for informing policy, CAP President Dr. Patrick Godbey commented in an interview. CAP surveyed 3,723 lab directors between June 8 and June 13 and received 306 responses, 70% of whom were based in hospital departments.
Pathologists have the platforms and personnel they need to run tests, but they still don't have enough swabs, transport media, or reagents, he commented. The picture has improved since April -- but not enough -- and testing demand is going to rise with the reopening of schools and businesses, he said.
"I believe that the demand for testing is going to greatly increase and we -- pathologists and the laboratories they direct -- are going to have to find a way to meet that need," Godbey said.
The survey also documented the effects of the coronavirus on hours and pay, wellness, and general lab test volume. For example, reductions in hours and pay for pathologists were reported by 63% and 43% of respondents, respectively. And increased burnout among pathologists was reported by 36%.
2021 Cuts to Medicare Pay: What #Pathologists Need to Know. Pathologists need to be aware of upcoming Medicare cuts due to changes to E/M payment and coding, explains @JonathanMyles10 in this CAPcast: https://t.co/j91aZxhvw8. #stopthecutssummer pic.twitter.com/UFX2sjvWKa

— CAPathologists (@Pathologists) June 27, 2020
Overall, non-COVID-19 clinical pathology volume was down by a median of 38% in June, compared with a 46% reduction in April. And anatomic pathology volume was down by a median of 50% in June, compared with 69% in April.
Another source of stress is the news that an 8% cut in pathology reimbursement for Medicare services is coming in 2021. After a tremendous decline in income related to COVID-19, pathologists now face the threat of another fall, Godbey said. CAP will continue to lobby for COVID-19 testing -- including the provision of swabs and transport media -- as well as against threatened cuts to pathologist payments, he added.