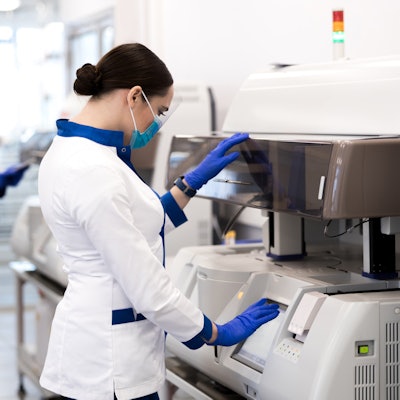 Quick management decisions -- and a little bit of luck -- helped the University of Washington's clinical lab keep its head above water in the early phases of the COVID-19 pandemic. Lab professionals rapidly developed their diagnostic testing and informatics response as the state became the epicenter of the first U.S. hotspot of SARS-CoV-2 infection.
The university's Medicine Clinical Virology Lab recently processed its 1 millionth COVID-19 specimen, eight months after the SARS-CoV-2 pandemic began in the state of Washington. This milestone was significant for the Seattle-area community, as well as the faculty and staff who work in the university's department of laboratory medicine and pathology.
But getting to this point was far from a walk in the park, according to Dr. Geoffrey Baird, PhD, the department's interim chair. Baird discussed the lab's experience in a December 17 session of the American Association for Clinical Chemistry (AACC) virtual meeting.
As concerned professionals, University of Washington laboratorians kept track of the spread of the SARS-CoV-2 virus early on. With testing experience as a reference lab, they understood the potential need for their services.
In preparation for the pandemic's arrival, the lab had developed its own laboratory-developed test (LDT). But lab staff didn't know that the first case of COVID-19 would occur in a local nursing home, and that the first community spread would occur nearby, Baird explained to LabPulse.com in an interview.
The lab had to scale up from processing hundreds of tests per day to thousands of tests per day. A workflow built to process hundreds of tests does not easily scale to thousands of tests, Baird indicated.
"Our experience in virological testing put us in a good position to be prepared. But we had to make quick decisions as to how to scale up to handle large numbers of tests," Baird said.
There were, of course, time and money concerns in planning to handle significantly large volumes of tests, he added. Over a six-week period, the lab invested a significant amount of money -- $30 million -- in expanding its facility, leasing and renovating other sites for processing test specimens, and hiring 200 extra staff members, according to Baird.
Shortly, the lab was ramped up and able to operate on a 24-hour basis. It has averaged 10,000 to 12,000 tests on weekdays and about half that volume on weekends, according to Baird.
Lab personnel collaborated with the local fire department, which collected many of the samples, and a third-party vendor that developed a website for scheduling. However, having enough testing supplies on hand to process specimens was a continuing concern, Baird said.
The lab's in-house IT specialists were also a key component of the response, explained Dr. Patrick Mathias, associate director of informatics for the lab. They had to rapidly move to interconnect the laboratory information system (LIS) with electronic health records so that test results could be processed and reported efficiently. In some cases, data analysts and engineers had to develop custom applications.
"The overall goal of the lab was to increase efficiency at every step of the process," Mathias noted.
Overall, conventional clinical information systems can play an important role in supporting expanded access to testing. But more agile integration solutions are needed, according to Mathias.
"Open-source tools combined with database infrastructure and Amazon Web Services allowed us to rapidly fill IT gaps and make operational decisions," he stated.
Key steps to successful operations included the following:
Generating LIS orders from flat files in the preanalytical step
Supporting data flow and pooling with the web application during the analytical step
Disseminating results through a simple web portal
Overall, the lab was able to increase its capacity by partnering with outside organizations to increase access to testing.
Baird noted that being prepared early was extremely important in the lab's ability to handle the testing needs. He also believes that maintaining key principles and making tests readily available played a significant role in the lab's successful effort.