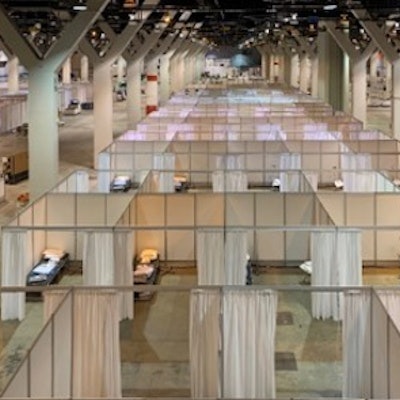 The McCormick Place convention center in Chicago is being converted into an alternate care facility that can house up to 3,000 patients with COVID-19.
Construction that will convert the country's largest exhibit space into a temporary field hospital is expected to be completed on April 24. The move is designed to relieve pressure on Chicago's hospital system by freeing up beds for more patients with severe COVID-19 in the event of a surge in patients.
The converted McCormick Place will have the capacity to treat up to 3,000 patients who are at low to moderate severity for COVID-19 across three of the convention center's halls. Construction of the first 500 beds was completed on April 3.
The conversion is being directed by Chicago's Metropolitan Pier and Exposition Authority in association with the U.S. Army Corps of Engineers. Design and engineering services for the conversion are being provided by design firm Stantec.
The American Association for Clinical Chemistry (AACC) was set to hold its annual meeting at McCormick Place from July 26-30 but recently announced it was changing the dates of the event to December 13-17.