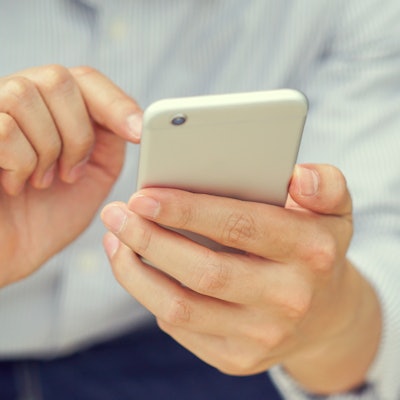 Cue Health has received emergency use authorization from the U.S. Food and Drug Administration (FDA) for its rapid, portable, point-of-care test for the novel coronavirus.
The Cue Health COVID-19 molecular test detects SARS-CoV-2 nucleic acid from a nasal swab sample. It runs a 25-minute analysis directly at the point of care and delivers the results to the Cue mobile app.
The test begins automatically when a nasal swab specimen is inserted into an accompanying Cue COVID-19 Test Cartridge, where heating, mixing, amplification, and detection all occur. The cartridge is connected to the Cue Health Monitoring System, which is in turn linked to an Apple iPhone device.
Cue's single-use COVID-19 test kit includes the Cue COVID-19 Test Cartridge and sterile Cue Sample Wand. Users must have the Cue Health app installed on an iPhone model 8 or newer for the system to work.
The FDA emergency use authorization allows use of the CUE COVID-19 test at CLIA-certified labs that meet the requirements for high, moderate, or waived complexity tests. It also covers use at point-of-care sites that have a CLIA Certificate of Waiver. Cue hopes to expand the authorization for use in additional locations, such as schools, homes, and workplaces.
The test development received funding from the U.S. Biomedical Advanced Research and Development Authority. Cue is also currently developing additional test cartridges for its point-of-care system, including tests for influenza A and influenza B.