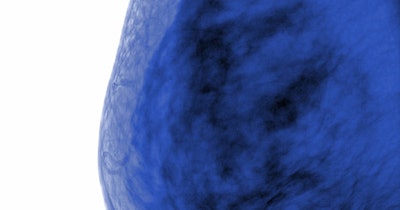 Breast cancer molecular diagnostic firm PreludeDx on Tuesday announced that the Centers for Medicare & Medicaid Services (CMS) has granted Advanced Diagnostic Laboratory Test (ADLT) status for its DCISionRT risk assessment test for patients with ductal carcinoma in situ (DCIS).
The test predicts radiation therapy benefit and provides information that improves shared decision-making between patients and their treating physicians.
The CMS approval, effective April 1, confirms that the test meets specific criteria established by CMS for laboratory tests under the Protecting Access to Medicare Act of 2014 (PAMA). ADLT status is granted for innovative products with Medicare coverage that provide new clinical diagnostic information that cannot be obtained from another test or combination of tests, among other criteria.
"Receiving ADLT status is a major milestone for PreludeDx and confirms the clinical value and unique nature of the DCISionRT test," Dan Forche, the firm's president and CEO, said in a statement.
PreludeDx is only the eighth company to receive ADLT distinction.
Patients with DCIS have cancerous cells lining the milk ducts of the breast that have not spread into surrounding breast tissue; in the U.S., more than 60,000 women are newly diagnosed with the medical condition each year.
Developed by PreludeDx using technology licensed from the University of California, San Francisco (UCSF), DCISionRT leverages research that began with funding from the National Cancer Institute (NCI) to enable a better understanding of the biology of DCIS.
The test combines innovations in molecular biology with risk-based assessment scores to assess a woman's individual tumor biology along with other pathologic risk factors and provide a personalized recurrence risk. The score identifies a woman's risk as low or elevated.
It combines protein expression from seven biomarkers and four clinicopathologic factors using a non-linear algorithm to account for multiple interactions between individual factors and to better interpret complex biological information, PreludeDx said.
The test reports a woman's recurrence risk after breast-conserving surgery alone and with the addition of radiation therapy.
DCISionRT has been adopted by academic cancer centers and community centers in numerous countries to help guide personalized treatment for women diagnosed with DCIS. The test has been clinically validated with peer-reviewed publications on independent, randomized, and prospective studies with more than 4,000 patients.