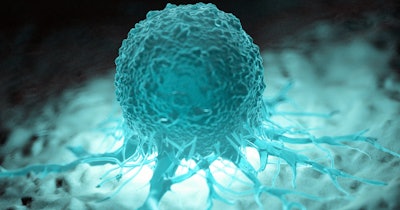 TScan Therapeutics has partnered with Tempus to develop a companion diagnostic to inform treatment of patients in a clinical trial of its oncology cell therapies.
Massachusetts-based TScan is developing T-cell receptor (TCR)-engineered T-cell therapies (TCR-T), for which the biotech firm profiles the tumors of patients and engineers their own T cells with anticancer TCRs.
TScan is currently gathering the information needed to maximize durable responses to its TCR-Ts. One of the challenges to achieving durable anticancer responses is HLA loss, a change that enables tumors to evade the immune system and causes patients to relapse quickly after initially responding to the treatment.
TScan has developed strategies for countering this challenge: notably, its focus on multiplexed TCR-Ts that may remain effective even when a tumor loses some HLA genes; however, this requires a way to identify HLA loss to inform the choice of TCR. Tracking the changes will enable TScan to target HLAs on the intact haplotype.
The biotech firm has identified Tempus as a company that can help it select the right treatments for patients. Tempus is the developer of xT CDx, a companion diagnostic that the U.S. Food and Drug Administration (FDA) approved earlier this year. The diagnostic test uses next-generation sequencing (NGS) to detect substitutions, multi-nucleotide variants, and insertion and deletion alterations in 648 genes.
Tempus, which also designed the test to assess microsatellite instability status, received approval to use the product as a companion diagnostic to Amgen's Vectibix (panitumumab) and Eli Lilly's Erbitux (cetuximab) in colorectal cancer patients. In that context, the test detects the KRAS wild-type biomarker, plus the NRAS wild-type for Vectibix, to inform treatment.
In a statement, Michael Yasiejko, executive vice president at Tempus, said that the TScan companion diagnostic work "is unique because we're looking for information that's not currently in the list of readouts you typically receive from next-generation sequencing of a solid tumor."
"The breadth and depth of selection criteria in this study, including the Tempus companion diagnostic, has the potential to help a significant number of patients across multiple solid tumor types through identification of patients most likely to respond to TCR-T treatment," Dr. Debora Barton, chief medical officer at TScan, said.
TScan will use the diagnostic to support the screening protocol for its phase 1 solid tumor clinical trial. Last month, the biotech firm began a screening study that is performing HLA genotyping and HLA loss testing on samples from patients with locally advanced and metastatic solid tumors. The study will determine if patients meet the eligibility criteria for inclusion in a trial of TScan's cell therapies.