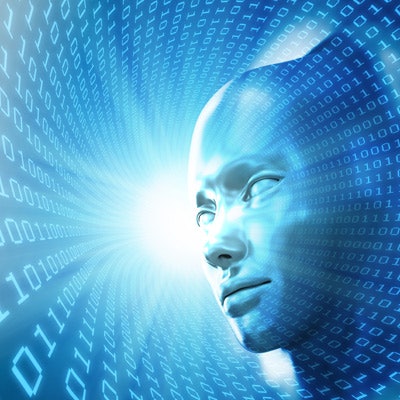 Artificial intelligence (AI) -- the simulation of human intelligence processes by software -- is reaching commercial pathology labs and has begun to significantly impact the way specimen images are read and diagnoses are made, bringing new understanding about the molecular basis of disease.
The days of traditional microscopy are looking numbered. AI-algorithms are helping lab personnel and physicians make more comprehensive diagnoses, which, in turn, helps identify and target therapies for individual patients. AI will also help point out anomalies, with the help of insight from case histories, as diagnoses may be stored in databases for future reference.
A big practical benefit is the ability to speed up and improve the workflow of pathologists. In a recent study, Dr. Alexi Baidoshvili of the Laboratory of Pathology East Netherlands and collegues found that a commercial laboratory processing an average of 220 cases a day was able to save 19 working hours per day by viewing and diagnosing images digitally (Histopathology, November 2018, Vol. 73:5, pp. 784-794). The greatest savings were gained in routine diagnosis and multidisciplinary workflows, the researchers reported.
Pathologists make use of AI algorithms for identifying unusual areas and structures, and they find correlations to previous cases by applying machine learning. This leaves more time for human analysis. Digitization also enables pathologists to electronically and rapidly send data and images to specialists for collaboration. In addition, combining intelligent machines with digital imaging software helps cut down on the potential for errors.
Early days for AI pathology
Much AI-pathology research is in its early stages, but concrete developments have been made. Philips, LabCorp, and the Mount Sinai Health System in New York are collaborating to bring AI to Mount Sinai pathology labs, through the establishment of the Mount Sinai Digital and Artificial Intelligence-Enabled Pathology Center of Excellence. The center's efforts will initially target cancer diagnosis but will eventually address other conditions, such as inflammatory bowel disease.
The center will transition digital pathology into clinical practice across Mount Sinai's hospitals, starting with interpretations of prostate cancer, genitourinary tumors, and head and neck cancers. It will be housed within the Mount Sinai School of Medicine Department of Pathology, Molecular and Cell-Based Medicine and deploy the Philips IntelliSite Pathology Solution, which is marketed for primary diagnostic use in the U.S.
Mount Sinai had participated in a digital pathology performance evaluation that was used to obtain clearance for the Philips system in the U.S., so it was already familiar with the technology platform. The department processes more than 80 million diagnostic tests each year.
"There is a lot of pressure on pathology services to be more efficient in delivering faster and more accurate diagnoses. AI and digital pathology make this possible," said Margaret Horton, head of marketing for Philips Digital and Computational Pathology. "There also are gains realized immediately on logistics, with elimination of couriers and transport time for glass slides, and the possibility of instant collaboration across virtual networks," she noted.
Whole slide imaging -- scanning a complete microscope slide and generating a high-resolution digital file -- represents a big change, as it replaces routine microscope-based workflows. The digitized images contain complete histological sections and make it possible to view detail.
"The ability to read a whole slide image, visually annotated and enriched with information from AI algorithms, will facilitate diagnoses," Horton said. "With digital pathology today, you can view multiple slides simultaneously, and can even view the images in real-time together with colleagues to get a second opinion faster or speed up a diagnosis."
The Philips IntelliSite Pathology Solution is an automated digital pathology image creation, viewing, and management system. The company is collaborating with industry and research organization partners that have developed AI algorithms to incorporate machine learning into the IntelliSite platform. Algorithms are now available for breast cancer biomarker detection. Philips envisions that future AI applications will include automatic identification of micrometastases for various cancers, the quantitative grading of different cancer types, the flagging of anomalies, and directing the pathologist toward which sections of an image to view first, according to Horton.
Adaptive intelligence at work
Horton does not expect AI to replace pathologists, but rather it will optimize workflow and help improve efficiency of pathology services, enabling pathologists to focus attention on their most challenging cases.
"AI will automate repetitive tasks. It's meant to augment and enhance their work," she said. "It's this adaptive intelligence that enables pathologists to produce the highest quality of diagnosis."
"AI will have an extremely positive impact on how quickly pathologists can get their work done, on the consistency of the work, and how much volume they can handle"
— Nathan Buchbinder, chief product officer and co-founder of Proscia
Nathan Buchbinder, chief product officer and co-founder of Proscia, a provider of digital and computational pathology software, expressed similar views.
"The job of the pathologist is to take all of the information available, provide a diagnosis, and help guide that patient and their diagnosis throughout the care process," he said. "That's not something a machine will ever replace."
In June, Proscia released DermAI, the first in its series of AI applications targeting pathology. DermAI is a module on Proscia's Concentriq digital pathology platform, a subscription-based digital software platform that facilitates image viewing and workflow management. While Concentriq is not cleared for primary diagnosis, pathologists may use the software to better manage their image-based workflows, facilitate internal analytics, and establish a portal for remote reviews by additional pathologists.
DermAI leverages AI to prescreen and classify skin biopsies.
"For a long time, laboratories have been using image analysis that didn't use artificial intelligence," Buchbinder said. "Now, AI puts a very powerful tool in the hands of pathology laboratories, going beyond making measurements."
Dr. Kiran Motaparthi, assistant professor of dermatology at the University of Florida College of Medicine, has been using DermAI to provide earlier insight into cases, which helps him to organize a large workload.
"DermAI demonstrates a high level of accuracy in categorizing common diagnoses," Motaparthi said. "This suggests the potential and practical utility of deep learning in pathology."
AI also provides information about which classes of cases require the most time for interpretation and where there might be additional opportunities to improve efficiency, he said. The software can prescreen and classify cases, allowing for a more efficient workflow with less "gear shifting."
"This also helps me to prioritize time for the more challenging cases that will need more of my attention," Motaparthi added.
Putting AI into practice
There are three important considerations of putting AI into practice, according to Proscia's Buchbinder. The first is technical or scientific, and it involves understanding how the AI was trained and, importantly, how it was tested. The second is functional, and it considers what patterns are being recognized and what the inputs and outputs are for any given product. Then there is an applied component, meaning labs need to address the question of whether the product will actually improve the clinical or operational performance.
"These considerations are universal, across all applications, whether AI is making a straightforward measurement on a specimen or if it's identifying a pattern undetectable by the human that might be indicative of any given diagnosis or prognosis," Buchbinder said. "Generally, the tasks of AI in pathology labs will include sorting images, triaging and prioritizing cases, and identifying high-risk regions of interest -- all of which can happen without human intervention."
"AI will have an extremely positive impact on how quickly pathologists can get their work done, on the consistency of the work, and how much volume they can handle," he added.
Pathology could follow the lead of the field of radiology, which has embraced digital technologies for years and has deployed AI for reducing manual processes and speeding up diagnoses. Databases of radiological images are already being used to develop AI algorithms, and AI has been the driving force behind the most important recent advances in imaging informatics.
Buchbinder believes that adoption of digital pathology and AI is inevitable and that most labs will be on board within the next five years. Costs of implementation present a hurdle initially but will be offset by improvements in diagnoses and productivity.
"What will be important is showing labs that AI works at scale and that it works in a variety of settings, in a wide range of labs, and that it can accommodate different nuances and variables," he said.