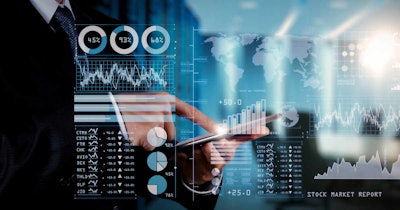 Adaptive Biotechnologies on Tuesday reported fourth-quarter revenue of $55.2 million, up 46% compared with $37.9 million in Q4 2021.
For the quarter ended December 31, volumes for its next-generation sequencing (NGS)-based clonoSEQ test increased 54% year-over-year to 10,526 tests delivered in the fourth quarter. ClonoSEQ test volume ended the year up 51% compared with 2021 with 36,871 tests delivered. The average selling price is currently almost $1,100 per test.
Among additional Q4 highlights, the company launched clonoSEQ to assess minimal residual disease (MRD) in patients with diffuse large B-cell lymphoma, the most common type of non-Hodgkin's lymphoma, with Medicare coverage.
The firm started the year with a reorganization in two business areas, MRD and immune medicine.
"We established clear strategic goals for each of these two business areas and executed against these goals by hitting key deliverables throughout the year," Chad Robins, CEO and co-founder of Adaptive Biotechnologies, said on a conference call to discuss the financial results. "Following the restructuring, we shared our long-range financial plan to achieve sustainable revenue growth while reaching adjusted EBITDA profitability in 2025."
In immune medicine, the firm decided to focus its commercial and development efforts around pharma services and drug discovery, he said.
In 2022, pharma services had substantial year-over-year growth of 67%. "In drug discovery, our partnership with Genentech had significant progress in both of our cell therapy programs," Robins said, adding that in addition to the work with Genentech, the company is developing internal programs to address autoimmune disorders.
The firm's Q4 net loss narrowed to $40.2 million, or a loss of $.28 per share, compared to a loss of $61.4 million, or a loss of $.43 per share, in the prior-year quarter.
For full-year 2022, the company reported revenue of $185.3 million, up 20% compared with $154.3 million in 2021.
The firm's 2022 net loss narrowed to $200.4 million, or a loss of $1.40 per share, compared to a loss of $207.3 million, or a loss of $1.48 per share, in 2021.
At the end of the fourth quarter, Adaptive had cash and cash equivalents of $90 million and short-term marketable securities of $408.2 million. Given its cash position, the firm will not need to raise additional capital to achieve its profitability targets, Robins said.
The company provided long-term financial guidance, saying it expects a 20% to 30% revenue compound annual growth rate, positive adjusted EBITDA in 2025, and cash flow breakeven in 2026.
Adaptive Biotechnologies expects full-year 2023 revenue to be $205 million to $215 million.