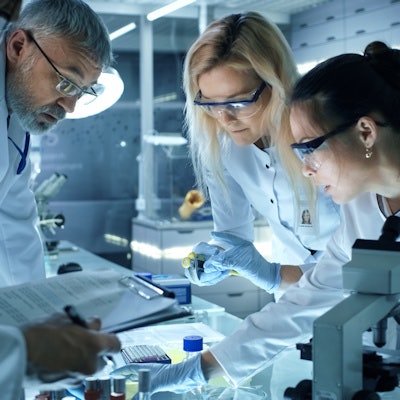 The U.S. Food and Drug Administration (FDA) has clarified guidance on the validation of pooled coronavirus testing, in a bid to pave the way for submission of emergency use authorizations (EUAs) for the throughput-boosting method.
Recommendations for labs and manufacturers on SARS-CoV-2 molecular diagnostics to be used for pooling of samples were included in a section on EUAs for IVD on the agency's website that was updated July 6. Pooling is one of the creative solutions labs have used to scale up amid a shortage of testing-related products. Combining individual samples into pools that can be tested together can save supplies, greatly boost efficiency, and works well in scenarios where there is a presumption of many negative samples.
"At this time, the need for testing remains greater than available resources," the FDA noted in its guidance. "Combining multiple patient samples to create one pooled sample for testing could be considered to enable broader access to testing."
Pooling has taken center stage in recent weeks. During a White House Coronavirus Task Force press briefing on June 30, Admiral Dr. Brett Giroir, assistant secretary of health, stressed the value of the method for scaling up coronavirus testing in the U.S.
"This is being done now in many universities and many commercial laboratories, and we are absolutely working with everyone in the community to do this," Giroir said. "It's not right all the time, but it's right a lot of the time."
The FDA's guidance notes that accuracy is dependent on the sensitivity of the test, the positivity rate in the test population, and the number of samples in the pool that are weak positives. Pools typically include from five to 20 samples. The agency said that five is a "reasonable starting point" for validation of pooling in test populations with a positivity rate of 5% to 6%, but that in cases where the coronavirus is more prevalent, smaller pools may be needed. Developers that want to validate pooled testing of more than five samples are advised to contact the agency to review plans.
Those who already have an EUA for a molecular test should request an EUA amendment with evidence of validation. Validation should be made on the basis of a clinical study that includes at least 20 individual samples comparing the EUA-authorized assay on single specimens versus pooled testing, according to the FDA.
Labs should monitor performance and consider whether pooling should continue as time goes on if the availability of supplies expands, the agency advised.