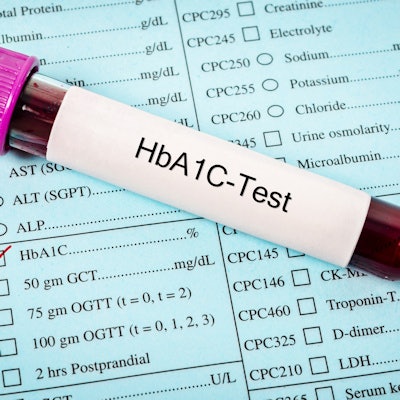 High fasting blood glucose levels were tied to increased COVID-19 mortality, even for patients without a previous diabetes diagnosis, according to the findings of a study published on July 10 in Diabetologia.
Researchers from Wuhan, China assessed 28-day mortality outcomes for 605 patients with COVID-19 at two hospitals in the province. Patients with high fasting glucose levels at admission were far more likely to die than those with normal readings, leading the researchers to recommend blood sugar testing for all COVID-19 patients.
"Blood sugar testing and control should be recommended to all COVID-19 patients even if they do not have pre-existing diabetes," wrote the authors, led by Sufei Wang, from the Department of Respiratory and Critical Care Medicine at Union Hospital in Wuhan.
Although none of the participants had a prior diabetes diagnosis, almost one-third of patients fell into the highest fasting blood glucose category (7.0 mmol/L) upon admission to the hospital. The blood sugar reading was high enough to warrant a type 2 diabetes diagnosis under normal circumstances, the authors noted.
Patients in the highest fasting blood glucose group were more than two times more likely to die than those with normal readings, the authors found. These patients also had an increased risk of death regardless of the severity of their pneumonia.
The higher risk of death also extended to patients with fasting glucose levels indicative of prediabetes at admission. The prediabetes group was 71% more likely to die than patients with normal fasting blood glucose readings, although the finding had borderline significance.
"This study shows, for the first time, that elevated [fasting blood glucose] at admission is independently associated with increased 28-day mortality and percentages of in-hospital complications in COVID-19 patients without previous diagnosis of diabetes," the authors wrote.
The authors cautioned that some of the patients in their study may have had undiagnosed diabetes. However, they also noted that only 12% of the Chinese population has high fasting blood glucose readings, compared to 29% of the study population.
Instead, the results more likely support prior studies that have found critically ill patients may develop acute insulin resistance. In patients with COVID-19, this could stem from a related condition, such as systematic inflammatory response syndrome or traumatic brain injury, the authors noted.
"During a pandemic of COVID-19, measuring fasting blood glucose can facilitate the assessment of prognosis and early intervention of hyperglycaemia to help improve the overall outcomes in treatment of COVID-19," the authors concluded.