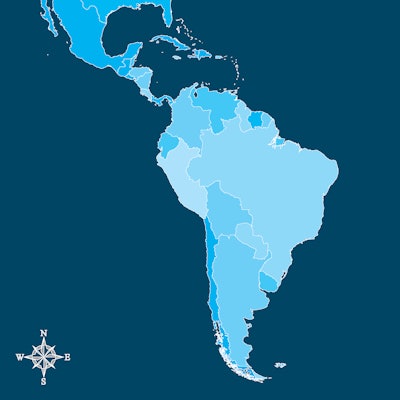 In vitro diagnostics (IVD) products are almost everywhere in the world, but growth is not found everywhere. For most of the top IVD companies, adding scores of millions in growth would be helpful to business plans. That's why growth regions such as Latin America offer promise beyond their market size.
The maturation of IVD markets in developed countries, at a growth rate of 1% to 2%, has IVD companies casting their nets in developing countries, where rising incomes and standards of living are anticipated to spark a new health-conscious population with growing demands for quality medical care.
Latin America (LATAM) is a key target for IVD manufacturers. Kalorama's report, "IVD in Latin America," focuses on the market for reagents and instruments in the most important countries of the continent. Argentina, Brazil, Chile, Colombia, Mexico, and Peru are singled out for a deeper level of analysis; the countries of Bolivia, Costa Rica, Cuba, the Dominican Republic, Ecuador, El Salvador, Guatemala, Guyana, Haiti, Honduras, Nicaragua, Panama, Paraguay, and Uruguay are also considered to provide a complete overview of the region.
Combined, these countries represent a population of 626.5 million -- a large potential IVD market audience. Brazil and Mexico represent the two largest countries in terms of population, accounting for more than half of the total population in the LATAM region. For this reason, these two countries have been the focus for many IVD suppliers in recent years.
However, as economic conditions strengthen in other countries and demand increases for quality health services, there are additional opportunities in countries such as Argentina and Chile.
The estimated gross domestic product (GDP) for the countries studied in this research is an average of 0.1% annual growth for the year 2017 but consists of a declining GDP for Venezuela; excluding Venezuela, the region records annual GDP growth of 2.2%. GDP per capita is reported at $16,635, on average, for the region.
Inequalities and social deprivation are always present in Latin America, where poverty is not declining; in fact, it sometimes increases. Although not all the countries in Latin America present similar circumstances or have the same players, there is a permanent and historical social inequality present in all countries of the region. Throughout the region, there are highly educated citizens who have a high economic income, as well as citizens with a low level of education or low economic income.
Over the past several years, the LATAM countries in the Atlantic zone grew more rapidly than those in the Pacific zone, basically because of the rise in commodity prices, which are now declining. The currencies of Venezuela, Argentina, and Brazil have experienced wide currency fluctuations and have mostly declined in value. Additionally, both Argentina and Venezuela are experiencing high inflation.
Total revenue in the LATAM IVD market comes through sales of reagents, consumables, controls, calibrators, and solutions and can be categorized into well-defined segments. The market for IVD in Latin America is estimated at $2.4 billion for 2018 and will grow at 8.4%. That's nearly $1.5 billion of extra market value for which companies will compete. Population growth, government insurance, newly insured patients, and updated healthcare facilities will drive growth.
Brazil is the largest in vitro diagnostics market within Latin America and represents 45% of the market. Mexico ranks second with an estimated 19%. Brazil, Chile and Colombia are among the countries growing most quickly.
The IVD vendors most likely to dominate the Latin American market are described below.
Abbott
Abbott Laboratories is a global, diversified healthcare company active in pharmaceuticals, nutritionals, devices, and diagnostics. Abbott's strength in diagnostic products is its sheer market presence worldwide. In LATAM, the company dominates in immunoassay-based microbiology and molecular microbiology, and it is competitive in all countries in immunoassays.
Danaher
Beckman Coulter, a subsidiary of Danaher, has developed, manufactured, and marketed IVD tests for more than 75 years. The company reports that more than 275,000 Beckman Coulter systems operate in both diagnostics and life sciences laboratories on six continents.
Beckman Coulter's strength is in chemistries, immunoassays, flow cytometry, and hematology.
Danaher also operates the blood analyzer leader Radiometer and histology leader Leica Biosystems.
Becton Dickinson
Becton Dickinson (BD) is a leading global medical technology company that develops, manufactures, and sells medical devices, instrument systems, and reagents. Founded in 1897 and headquartered in Franklin Lakes, NJ, BD employs nearly 30,000 associates in more than 50 countries throughout the world. The company serves healthcare institutions, life science researchers, clinical laboratories, the pharmaceutical industry, and the general public. BD has operated in China since 1994 and in India since 1996. In LATAM, the company specializes in microbiology, flow cytometry, and molecular solutions.
BioMérieux
BioMérieux is present in more than 150 countries through 39 subsidiaries and a large network of distributors. BioMérieux is best known for its microbiology business that includes immunoassays, traditional microbiology, and chromogenic media; however, the company is moving to capitalize on its acquisition of Organon Teknika's Boom molecular technology and nucleic acid sequence-based amplification (NASBA) technologies.
Roche Diagnostics
Roche Diagnostics dominates clinical chemistry, urinalysis, point of care (POC), and hematology and is competitive in molecular and immunoassays. Roche is the world's largest supplier of clinical diagnostics products, and Roche's global product sales are still almost twice those of its nearest competitor. Roche is also the world leader in IVD and tissue-based cancer diagnostics and a frontrunner in diabetes management. Roche's personalized healthcare strategy aims to provide medicines and diagnostic tools for patient disease management. The company's Ventana Medical Systems business also contributes to the company's market strength.
Siemens Healthineers
The Siemens Healthineers business is one of the world's largest suppliers to the healthcare industry and a major player in medical imaging, laboratory diagnostics, medical information technology, and hearing aids. The company's diagnostics division includes products for clinical chemistry, drug testing, hematology, coagulation, immunoassay, infectious disease, microbiology, molecular diagnostics, plasma proteins, point-of-care testing, blood gases/electrolytes, and urinalysis. In addition, Siemens operates a clinical laboratory and offers laboratory informatics and automation.
Disclosure: LabPulse.com is a sister company of Kalorama Information.