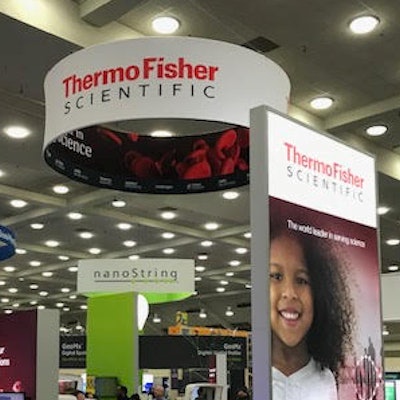 The U.S. Food and Drug Administration has granted breakthrough device designation to Thermo Fisher Scientific for its assay to identify two key mutations in patients with low-grade glioma.
The Oncomine Precision Assay can identify patients with low-grade glioma who have isocitrate dehydrogenase 1 and 2 (IDH1 and IDH2) mutations. It runs on Thermo Fisher's Ion Torrent Genexus System, a comprehensive, automated next-generation sequencing platform that can deliver single-day genomic profiling results.
The assay is part of strategic partnership between Thermo Fisher and Agios Pharmaceuticals to develop a companion diagnostic for patients eligible for vorasidenib (AG-881), a dual IDH1/2 inhibitor in late-stage clinical development for the treatment of IDH-mutant low-grade glioma.
Thermo Fisher hopes to expand its Oncomine Precision Assay premarket approval to multiple cancer therapies, including liquid biopsy tumor profiling for lung cancer and solid tissue tumor profiling for multiple cancer types.