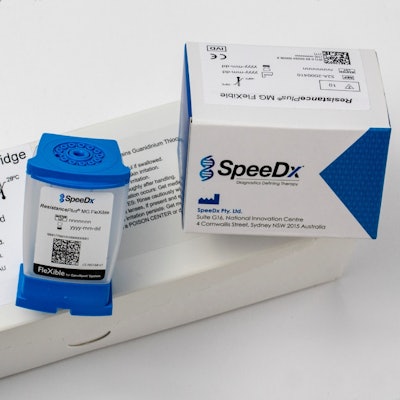 SpeeDx announced that the ResistancePlus MG Flexible test for Mycoplasma genitalium (Mgen) -- an increasingly common bacterial sexually transmitted infection (STI) -- has received the CE-IVD Mark and is now available in Europe through a partnership with Cepheid.
The diagnostic test screens for Mgen as well as for resistance to the macrolide class of antibiotics, such as azithromycin, which is a first-line treatment for the infection. Cepheid will be responsible for marketing and distributing the Mgen test for use with its Flexible cartridge and GeneXpert system.
The test is also approved for sale in Australia, the home base of SpeeDx, and the company said it is finalizing trials in preparation for submission for U.S. clearance. Hologic's Aptima M. genitalium assay became the first Mgen test to be approved by the U.S. Food and Drug Administration (FDA) in January. Hologic noted that in some high-risk populations, more than 15% of people are infected.