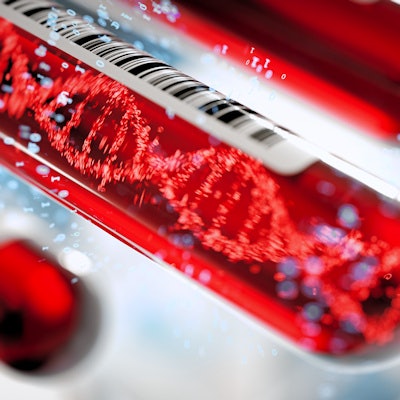 The potential role for circulating tumor DNA (ctDNA) in guiding treatment and monitoring response received more support from a pair of separate studies on rectal cancer and melanoma published May 15 in association with medical meetings.
Data from a U.K. study showing the utility of ctDNA tests in 47 patients with localized rectal cancer were released in a poster at the European Association for Cancer Research/European Society for Medical Oncology (EACR/ESMO) Joint Conference on Liquid Biopsies in Bergamo, Italy. Results were reported by lead author Dr. Shelize Khakoo, an oncologist at the Royal Marsden NHS Foundation Trust, and colleagues in a poster presentation.
For the study, investigators evaluated blood samples before, during, and after treatment with a preoperative combination regimen of chemotherapy and radiotherapy (CRT), as well as after surgery. Median follow-up in the trial was 26.4 months. The ctDNA test results correlated with treatment and with magnetic resonance imaging (MRI) studies: The researchers reported that ctDNA was present in 74% of patients before treatment, 21% during and after treatment, and 13% after surgery. Those who still had ctDNA in their samples despite treatment were more prone to developing metastatic disease.
A fractional abundance of ctDNA over the threshold of 0.1% was significantly associated with disease progression in the study. During CRT, the ctDNA test had sensitivity of 90% and specificity of 83.3% for disease progression, while after treatment, its sensitivity was 100% and specificity was 66.7%. The researchers also noted that ctDNA was detected in all 15 participants who secreted the protein carcinoembryonic antigen (CEA), a marker raised by rectal cancers, compared with 63% who were nonsecreters of CEA.
Khakoo and colleagues concluded that ctDNA is potentially complementary to tumor regression grading with MR after treatment to evaluate treatment response and gauge the likelihood for metastasis. It could also provide insight on whether treatment needs to be more aggressive based on risk, the researchers suggested.
Monitoring melanoma drug response
In a separate study, researchers at NYU Langone Health reported that ctDNA tests are helpful for identifying melanoma patients with BRAF mutations and monitoring response with the targeted drugs dabrafenib and trametinib (Tafinlar and Mekinist, respectively; Novartis). The combination of Tafinlar, a BRAF inhibitor, and Mekinist, a MEK inhibitor, is commonly given to melanoma patients with BRAF mutations.
The NYU Langone Health study explored the use of ctDNA in predicting treatment response in a subset of 224 patients with unresectable stage III or IV melanoma who were treated with Tafinlar alone or with the combination in Novartis' COMBI-d study. Results were reported by lead author Dr. David Polsky, PhD, and colleagues in an abstract released on May 15 ahead of the American Society of Clinical Oncology (ASCO) meeting.
Blood testing with mutation-specific Droplet Digital polymerase chain reaction (ddPCR, Bio-Rad) assays was done at baseline and after four weeks of treatment with Tafinlar or Tafinlar with Mekinist. The BRAF mutation was detected with the test in almost 93% of patients at baseline. Undetectable ctDNA after four weeks of treatment with the single drug or double-drug combination correlated with response and longer survival -- 28 months, on average -- in 80 patients, the researchers reported. The 121 patients who did not respond also had detectable ctDNA and a shorter average survival of 14 months.
Circulating tumor DNA tests provide more information about treatment response than lactate dehydrogenase tests, which are commonly used for melanoma, and they are more convenient and faster than computed tomography (CT) scans, which are currently used to monitor the effects of drugs. A randomized study evaluating ctDNA testing prospectively for guiding treatment is now being considered.