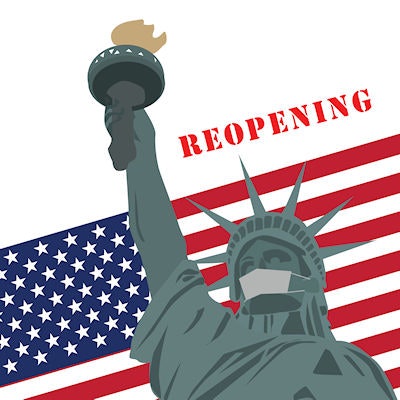 The U.S. Centers for Disease Control and Prevention (CDC) acknowledged high interest in antibody tests as businesses go back to work, while highlighting their limitations and many unknowns in reopening guidelines.
The agency published a 60-page document with guidelines for reopening, in accordance with White House plans, on its website. It includes instructions on testing, tracking, surveillance, and best practices for reopening daycares, schools, and businesses. During a May 20 White House briefing, press secretary Kayleigh McEnany downplayed the release, noting that several policies in the document had been previously published and that overall it represented an aggregation of guidelines on COVID-19.
Serology has been a hot-button topic for the reopening of economies in the U.S. and around the world. There has been talk of the potential for getting an immunity passport -- evidence that one has been exposed to the novel coronavirus and has antibodies against it -- as a means to regain entry to communal work environments, but test limitations get in the way. Laboratory medicine organizations have repeatedly flagged the risk for false positives.
In its guidelines for reopening, the CDC wrote that serologic testing "may play a role in a back-to-work strategy provided it can be shown that serologic testing can reliably infer immunity."
But the agency went on to say that despite public optimism about serologic testing to allow a return to work without the need for personal protective equipment (PPE) and other precautions, "there are many unknowns" that limit use for this purpose. For example, it's unclear how antibodies correlate with immunity and there are concerns about accuracy.
"Typically, a well-performing single-step serologic assay may be expected to have a specificity of 95% (sensitivity is a secondary concern here, although also important), which is likely not enough for this purpose, given the potential consequences of COVID-19," the CDC wrote. "Combining two different tests will be critical for improving performance and should be part of any strategy to utilize serologic testing for 'immunity' determinations."
Furthermore, performance characteristics are still not known and seroprevalence has been shown to be "highly variable" even within different parts of the same city. If a test with 95% specificity was used in a population with true seroprevalence of 5%, almost half of the positive results would be false, the agency noted.
"At best, the use of serologic testing for a back-to-work strategy would likely benefit fewer than 10% of the population currently," the document concluded.
The CDC called for a political consensus on top of scientific data to define the role of serological testing as part of business reopening plans.
"Consensus is also needed on a plan for how to provide documentation of that immunity, be it through federal- or state-based immunity registries, digital proof-of-immunity, or physical documentation such as 'immunity certificates,' " the document stated.
In light of the interest in antibody testing, the CDC is working with other government agencies to evaluate assays, while tracking seroprevalence nationally.
Robust testing plans
The guidance for reopening daycares, schools, and businesses advises checking temperature and symptoms upon entry. The agency is advising periodic molecular diagnostic testing and sentinel surveillance for residents and staff in long-term care facilities "to detect outbreaks early in this setting, where devastating outbreaks are known to occur and to be associated with high rates of asymptomatic infection."
The government has set criteria defining robust diagnostic testing by phase of reopening. A low rate of positive results suggests that enough testing is being conducted.
Guidance on robust testing/test availability during phases of reopening
Percentage of positive tests
Median time from test order to result
Phase I
< 20% for 14 days
< 4 days
Phase II
< 15% for 14 days
< 3 days
Phase III
< 10% for 14 days
< 2 days
During a May 11 press briefing, White House coronavirus task force officials said that the positive rate in many states was lower than 10%, which supports reopening. Furthermore, they said that the government had taken steps to ensure the supply of swabs and other supplies.
The American Association of Clinical Chemistry (AACC) is among the professional organizations that have flagged shortages of supplies as a barrier to ramping up testing to support reopening. In a statement provided on May 20 to LabPulse.com, the AACC noted that on average, 366,278 diagnostic tests per day had been conducted in the prior week, according to the COVID Tracking Project. That comes pretty close to the 400,000 tests per day of current U.S. capacity estimated by the White House recently, but it still falls short, AACC President Carmen Wiley, PhD, commented. Researchers from Harvard's Global Health Institute estimate that 900,000 tests are needed to prevent a second wave of the coronavirus, Wiley noted.
"Supply shortages continue to play a role in the U.S.'s inability to ramp up to full testing capacity," Wiley added. "While these shortages have improved, many states are still reporting a lack of personal protective equipment, nasal swabs, reagents, and in some cases test kits."
The Association of Public Health Laboratories commented that testing has been increasing on a weekly basis and that it is not hearing as much concern about supply chain issues.
The American Clinical Laboratory Association cited concerns about specimen collection among its members, as many physician offices and urgent care centers are closed and alternate sites are used for collection. Restrictive or vague testing guidelines, which vary by state, can also limit access to testing, a spokesperson said.
According to the COVID Tracking Project, in the U.S. as of May 20, more than 12.6 million tests had been conducted overall in the U.S., with more than 1.5 million positive cases and 87,000 deaths. Globally, more than 4.7 million cases had been confirmed, with more than 318,000 deaths, according to the World Health Organization.