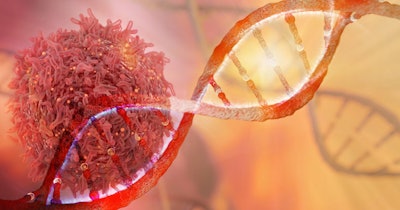 The U.S. Food and Drug Administration (FDA) has granted de novo authorization to an Invitae panel that tests for hundreds of genetic variants that indicate whether a person has a higher risk of developing certain cancers.
The Common Hereditary Cancers Panel uses next-generation sequencing to analyze clinically important regions of 47 genes associated with cancers of the breast, ovary, uterus, prostate, and gastrointestinal system. Using the prescription test, physicians can show if a person is at increased risk of developing the cancers and whether patients who have already been diagnosed with cancer have hereditary variants.
Invitae submitted a de novo request in March 2021. Since then, the FDA has worked with the genetic testing company to review the genetic panel and the supporting data. Invitae filed for authorization after showing that the product is more than 99% accurate for all of the tested variants.
The list of genes covered by the test includes BRCA1 and BRCA2, which are associated with hereditary breast and ovarian cancer, and other less well-known genes that indicate a heightened risk of a range of tumor types.
As the first authorized test of its kind, the Common Hereditary Cancers Panel came to market via the de novo pathway, creating a streamlined route for similar products in the process. Other companies can now bring tests to market via the 510(k) pathway by showing that their products are substantially equivalent to Invitae's panel.
Through the de novo process, the FDA created special controls that define the requirements companies must meet to secure 510(k) clearance. The controls require at least 99% positive agreement and 99.9% negative agreement for substitutions, insertions/deletions, and copy number variants. The criteria for 510(k) clearance reflect the FDA's concerns about the harms of false positives and false negatives.
While Invitae is the first company to secure FDA authorization for a panel, physicians have had access to lab-developed panels covering a number of hereditary cancer genes. Invitae already provides the panel as a lab-developed test; the UCSF Clinical Cancer Genomics Laboratory offers a test that covers a similar set of 47 genes.
Invitae said the authorization "provides potential marketing differentiation" and shows that the technology "can be well characterized based on variant type and genomic context and is consistent across genes."