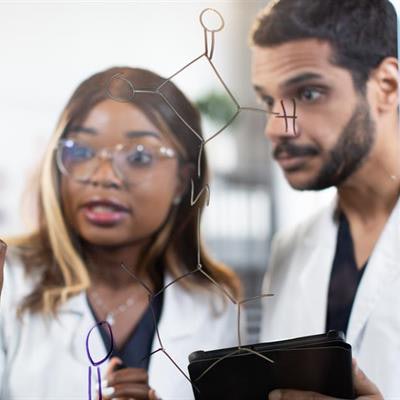 If the life sciences industry wants to hire the best up-and-coming talent, it needs to understand that Generation Z's motivation goes way beyond a paycheck. What they want is systemic change, according to the keynote address given by Raven Solomon at the Society for Laboratory Automation and Screening (SLAS) 2022 conference.
The new workforce
In just five years, Generation Z will make up nearly one-quarter of the U.S. workforce -- its most racially and ethnically diverse generation ever -- and this generation is demanding and expecting equity in the workforce, Solomon said.
"The expectation that Gen Z has for equity really is reflective in their demographics," Solomon said. "If you have kids, think about their daycare or their classroom. Just close your eyes and imagine what their classrooms look like. And now think about what your office looks like or [what] your lab looks like? They probably look very different. That small indication really points to the diversity we expect to get into the workforce very, very soon."
The new workforce also cares deeply about racism and discrimination. In May 2020, a survey published by Y Pulse, a youth marketing research firm, reported that racism and discrimination was the top challenge that Gen Z reported facing. (The second highest issue was climate change.)
This reflects what Gen Z is seeking in the workforce: for unheard voices to be given equal value, Solomon noted.
"Now, we've got these Gen Zers coming into the workforce and they're saying, 'I still can't hear some voices' because of historical marginalization, oppression, -isms ... so some people need microphones so that the voices are actually equal," Solomon said.
Tapping into what Gen Z cares about is critical to attracting and retaining workforce talent, she explained.
"When you think about this talent, do you want the top talent in the nation, or do you not?" Solomon asked. "When we think about recruiting talent, retaining talent, serving a certain demographic of the population, we must care about what they care about."
Following the keynote by Solomon, a panel at SLAS 2022 discussed the issues of diversity and inclusion in the life sciences industry.
Diversity: Good for people, good for business
Issues of diversity and inclusion aren't just about striving to meet the dreams of a young generation; they have a real impact on the end user as well, noted Colin Cox, PhD, senior director of automation at Seer, a company in the proteomics space. And if a company isn't striving to meet those ideals, Cox wonders, why is it even trying to be a leader in the life sciences space?
"We make better solutions in the industry when we have a diverse group and everyone's been listened to," Cox said. "It's the right thing to do for the people. And if you don't care about the people, why are you trying to be a leader here? But it's also the right thing to do because it makes our companies more successful as well. It's the right thing to do all-around."
How to attract talent
Describing the way he recruits underrepresented groups to work at the company as "turning on a light," Richard Ellson, chief technology officer at Beckman Coulter Life Sciences, said that people sign up with the company because they know it cares about diversity and equity.
"People sign up for jobs with Beckman Coulter life sciences because we broadcast that we care," Ellson said. "We are capable of supporting diversity, appreciating diversity, taking time to listen to you. So you can be included."
🌈 Happy Pride Month!

As part of Danaher, we're thrilled to be named one of the Best Places to Work for LGBTQ Equality by the Human Rights Campaign.

Danaher received a score of 100 on the 2021 Corporate Equality Index.#pride #pridemonth #inBECLS #BECLSproud #loveislove pic.twitter.com/BpEWfslyKL

— Beckman Coulter Life Sciences (@BCILifeSciences) June 1, 2021
Other companies could use similar recruiting techniques as Beckman Coulter, which was named as one of the Best Places to Work for LGBTQ Equality by the Human Rights Campaign, which provides a corporate equality index.
"So go out -- we're scientists -- get yourself measured, post your result, turn on that light, get people to come to you," Ellson said. In addition to actively campaigning at college campuses, companies can broadcast how their work environment is one where "people can feel comfortable being their true, authentic selves," Ellson noted.
Additionally, new recruits need to know a future path is available to them, Cox said.
"People need to see a future path for themselves in a company. And if you can't see some kind of reflection of yourself, it's hard to believe that that path exists," Cox said.
For many companies, the process from recruiting to promoting needs to be scrutinized, said Ashley Wallace, PhD. Wallace is a member-at-large of the National Organization for the Professional Advancement of Black Chemists and Chemical Engineers.
Wallace said that life sciences companies need to look at recruiting metrics: how many people applied for the job, who made it to the interview stage, and who advanced to the next stage. If they were hired, does their compensation match that of their counterparts? Are the same opportunities available to them to grow in the organization?
"There's a lot of things that I would say that goes into making sure the organization is allowing for diverse candidates to actually thrive," Wallace said.
Gen Z: not afraid to walk away from a job
Organizations would do well to heed some of these tips, because Gen Z is less tolerant than previous generations of situations where they can't be authentic, Wallace explained.
"[Previous generations] would stay because they didn't see any other options. They didn't want to ruffle feathers, or they needed the job," Wallace said. "Gen Z, they feel like organizations should be happy and thankful that they are bringing their talents to the workplace. They are expecting companies to ... be active in those efforts, not just giving a talk or just talking about a situation. A lot of them are not afraid to hold people accountable."