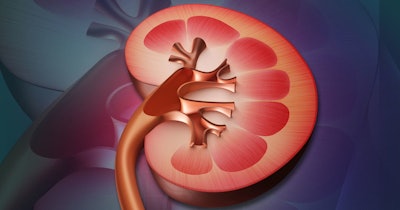 London-based Renalytix on Thursday announced the launch of Prime-CKD, a consortium of industry, academic, and clinical research organizations that aims to validate and clinically implement biomarker-based tests that predict response to drugs used by patients with chronic kidney disease (CKD).
Prime-CKD is funded by Horizon Europe, a European Union funding program for research and innovation. Approximately $1 million of the total amount is targeted for commercial translation activities to be undertaken by Renalytix. The project is expected to continue for five years.
"Results from this project are expected to translate into significant patient benefits and decreased societal costs associated with CKD by helping ensure that patients receive the most effective therapy, at the right time, to slow or prevent the kidney failure requiring dialysis or transplant," Hiddo Heerspink, the program coordinator from the University Medical Center in Groningen, Netherlands, said in a statement.
Renalytix said it will provide expertise in biomarker research translation and urinary epidermal growth factor intellectual property for which it has obtained exclusive access from the University of Michigan.
The firm noted that the project is aligned with its objective to expand the clinical utility of its KidneyIntelX testing platform beyond prognosis to prediction and monitoring of drug response.
KidneyIntelX is a laboratory-developed test that provides a custom risk score, enabling physicians to predict which adult patients with type 2 diabetes and early CKD are at low, intermediate, or high risk for a rapid, progressive decline in kidney function.
The new consortium brings together experts from 11 academic institutions and partners from patient representative foundations and regulatory agencies.
If certain biomarkers are successful, the Prime-CKD program will seek regulatory approvals for their use through the European Medicines Agency and the U.S. Food and Drug Administration.
The following organizations comprise the consortium: Academisch Ziekenhuis Groningen, Renalytix, the regents of the University of Michigan, Lund University, Region Hovedstaden Hillerod, Universitaetskliinikum Hamburg Eppendorf, Universita Degli Studi Della Campania Luigi Vanvitelli, University of Leicester, Alma Mater Studiorum - Universita di Bologna, IRCCS Azienda Ospedaliero-Universitaria di Bologna, Fundacion para la Investigacion del Hospital Clinico de la Comunitat Valenciana, Fundacion Incliva, Hessels + Grob, Agentschap College ter Beoordeling van Geneesmiddelen, Universitatsklinikum Erlangen, Nierstichting.