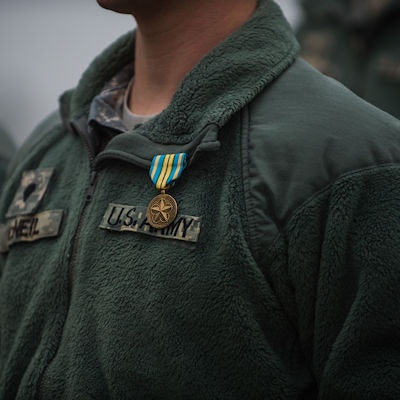 Neurofilament light (NfL) chain has received more support for use as a biomarker for disabilities associated with mild traumatic brain injury (mTBI) from a study of military veterans published on May 27 in the journal Neurology.
Sponsored by grant funding from the U.S. Department of Defense (DOD) Chronic Effects of Neurotrauma Consortium (CENC), the study evaluated levels of the protein NfL in blood tests and how they correlated with concussion in 195 military veterans. Researchers found higher levels in veterans with a history of three or more concussions compared to those who had not had mTBI. In addition, high NfL was associated with more severe symptoms such as post-traumatic stress disorder (PTSD) and depression.
Blood testing has potential to predict disabilities years ahead of time, researchers said in a statement from the American Academy of Neurology, which publishes the journal Neurology.
"Our study found there's great potential for this protein to predict the problems people with concussions may experience years after their injuries," said study author Dr. Kimbra Kenney, an associate professor of neurology at the Walter Reed National Military Medical Center.
Shedding light on mTBI
The study was conducted to shed light on pathologic processes associated with mTBIs, an area that the authors said is "poorly understood." In particular, it's been unclear how to identify people who recover well from TBI from those who go on to have debilitating symptoms for many years.
For the study, the researchers evaluated exosomal and plasma levels of NfL, as a neuronal marker of axonal injury, and other blood biomarkers in veterans:
Tumor necrosis factor-alpha (TNF-α)
Interleukin-6 (IL-6)
Interleukin-10 (IL-10)
Vascular endothelial growth factor (VEGF)
The veterans were enrolled in the multicenter CENC Longitudinal Study. Most participants -- 85% -- were male and the median age was 38 years. The investigators determined how biomarkers matched with chronic conditions associated with mild traumatic brain injury -- postconcussive syndrome (PCS), PTSD, and depression. Results were compared for veterans with mTBI versus controls with no injury.
NfL was significantly elevated in those who had three or more concussions, compared with the controls -- 33% higher in exosomal tests and 34% in plasma.
"Repetitive mTBIs are associated with elevated exosomal and plasma levels of NfL, even years following these injuries, with the greatest elevations in those with chronic PCS, PTSD, and depression symptoms," Kenney and colleagues wrote. "Our results suggest a possible neuroinflammatory and axonal disruptive basis for symptoms that persist years after mTBI, especially repetitive."
The results complement findings from other studies that linked elevated NfL with injuries in athletes and military personnel.
"Our findings provide further evidence that increased NfL levels are linked to repetitive head traumas and may play a role in chronic symptom persistence following repetitive TBIs," the authors wrote.
Measuring biomarkers in blood is a safe, accessible, and inexpensive way to monitor brain injury and associated pathologic processes, they noted.