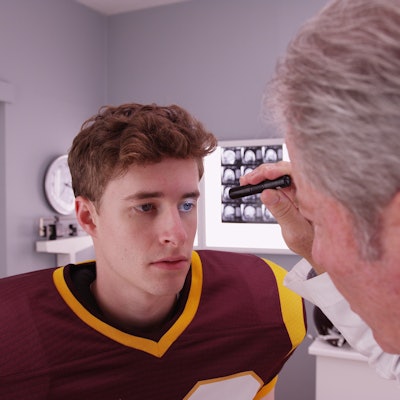 Changes to biomarkers in blood tests matched concussion injuries in a recent study of college athletes. The results suggest potential for blood testing to complement clinical evaluation in determining which athletes can return to play.
The prospective case-control study was funded by the U.S. Department of Defense and the NCAA and conducted through their Concussion Assessment, Research and Education (CARE) consortium.
It involved the evaluation of blood tests at baseline, shortly after injury (median time, 3.4 hours), and at a range of other subsequent time points. Overall, 504 athletes were evaluated, including 264 who played football and other high-contact sports and had concussions. The rest were control athletes who did not have concussions, with some who played high-contact sports and others who did not play contact sports.
Four biomarkers were evaluated using the Simoa multiplex assay (Quanterix):
Glial fibrillary acidic protein (GFAP)
Ubiquitin C-terminal hydrolase L1 (UCH-L1)
Neurofilament light (NfL) chain
Tau
The levels of three biomarkers -- GFAP, UCH-L1, and tau -- were significantly higher in tests taken in the acute postinjury stage versus baseline, the researchers found. The area under the curve (AUC) for GFAP plus UCH-L1 in identifying athletes with concussion versus controls was 0.71. That compares to an AUC of 0.72 for all four biomarkers together.
"The results suggest that blood biomarkers can be used as research tools to inform the underlying pathophysiological mechanism of concussion and provide additional support for future studies to optimize and validate biomarkers for potential clinical use in [sports-related concussion]," wrote Michael McCrea, PhD, director of the brain injury research program at the Medical College of Wisconsin, and colleagues in JAMA Network Open online January 24.
Tough calls to make
The study adds to the body of research exploring the development of objective biomarkers for mild traumatic brain injuries, which account for 90% of all brain injuries, the authors noted.
Sports-related concussion affects millions of athletes every year, and the diagnosis is often difficult to make because the condition is particularly mild and subtle, McCrea and colleagues wrote. Clinical evaluation based on signs and symptoms is the standard of care, but it has the downside of being subjective. That makes it difficult to make decisions about fitness for returning to play.
In a statement about the publication of the data, Quanterix highlighted the importance of using a panel of biomarkers, as opposed to one variable. NfL was the only marker elevated days after the return to play in more severely injured athletes with loss of consciousness or post-traumatic amnesia, the company noted.
"While [NfL] interaction was not considered significant as a concussion indicator, findings support its use as a measure for seriousness of injury and triggered neuronal damage," Quanterix said.
In an editorial about the study, Dr. Jeffrey Bazarian, a professor of emergency medicine at the University of Rochester Medical Center, and colleagues noted the importance of identifying traumatic brain injury to make crucial decisions about whether athletes are fit to return to action.
"Although many previous studies of brain biomarkers have focused on their value for identifying potentially life-threatening intracranial hemorrhage on head computed tomography scans, considerably fewer have examined their value for differentiating individuals with concussion from those without," Bazarian et al wrote in the editorial, which was also published on January 24 in JAMA Network Open.
The editorial authors flagged the strengths of the new CARE study, as it included comparisons with appropriate matched controls and serial measurements over time of blood brain biomarkers.
"While the investigation of these biomarkers is not novel, the rigorous approach in the largest athlete cohort to date, to our knowledge, makes the study by McCrea et al important, timely, and clinically relevant," they wrote.
Among other key findings, the results suggest it may be possible to use biomarkers to diagnose concussion, without needing to incorporate self-reported symptoms, they added.
"As McCrea et al point out, it will be important to quantify the prognostic accuracy associated with these biomarkers measured at each postinjury timepoint," Bazarian et al wrote. "This will help inform whether these biomarkers may be used for prognosticating outcomes from concussion, in addition to aiding in diagnosing concussion."