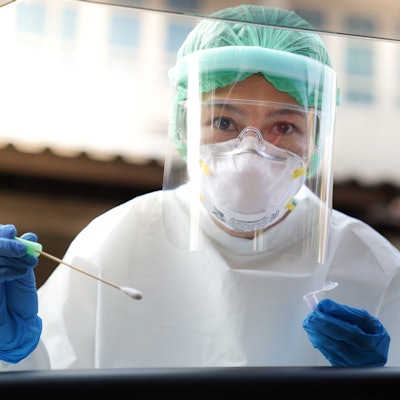 San Diego medical and scientific research institutes launched a large-scale COVID-19 screening research study with an initial focus on evaluating healthcare workers and first responders.
The new collaboration is called the San Diego Epidemiology and Research for COVID Health (SEARCH) alliance. The cross-institutional group is co-led by clinical researchers at Rady Children's Hospital-San Diego, Rady Children's Institute for Genomic Medicine, Scripps Research, and the University of California (UC), San Diego.
The epidemiology research project will apply innovative technologies and screening strategies to determine how widely COVID-19 has spread in the area. In the initial phase of the program, nasopharyngeal swab samples are collected from participants at a local drive-up site. Samples are screened at Scripps Research and UC San Diego. Positive results are confirmed by Rady Children's Institute of Genomic Medicine's nationally accredited and certified clinical laboratory.
The researchers are also conducting serosurvey studies to identify antibodies against the virus. This test involves a finger-prick blood test of people who haven't been diagnosed with COVID-19 to gauge the extent to which SARS-CoV-2 spreads undetected.
To date, the study has enrolled more than 10,000 participants and has found that on average, two participants per every 1,000 have had a positive result for the SARS-CoV-2 virus. Participation is voluntary but is currently limited to invited healthcare workers from participating hospitals, firefighters, and other first responders.