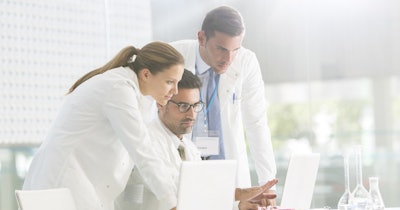 Oxford Nanopore Technologies on Thursday announced a collaboration with 10x Genomics to enable a streamlined workflow for sequencing full-length transcripts in single reads on Oxford Nanopore devices.
The collaboration enables the addition of Oxford's PromethIon devices and selected consumables, as well as sample preparation on 10x Genomics devices, to the 10x Genomics Compatible Partner Program (CPP), Oxford Nanopore said.
The company said it has also released an end-to-end nanopore-only single-cell protocol.
The collaboration will allow users to span features such as fusion genes or transcripts with repetitive regions to produce cost-effective single-cell and spatial sequencing data, Oxford said.
"Full-length single-cell and spatial transcripts are revealing new information that has never been seen before, and this is made possible by Oxford Nanopore's ability to deliver this readout at very high throughput," Gordon Sanghera, the firm's CEO, said in a statement.
Financial and other terms of the collaboration were not disclosed.