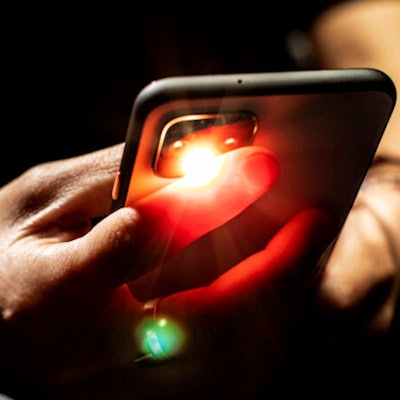 Reading blood-oxygen saturation (SpO2) levels on a smartphone could give more people important information to help them interpret symptoms of COVID-19 and other medical conditions at home, according to a proof-of-principle study published this week in npj Digital Medicine.
In the study, University of Washington and University of California San Diego researchers demonstrated that the use of a smartphone camera and flash could enable detection of blood oxygen saturation levels comparable to those measured in a clinic using a pulse oximeter clipped to a finger.
The study findings may have implications for people wanting to monitor oxygen saturation multiple times a day to monitor symptoms.
Healthy people always have at least 95% oxygen saturation. The npj Digital Medicine study demonstrates that smartphones can detect SpO2 levels down to 70%, the lowest value that pulse oximeters should be able to measure as recommended by the U.S. Food and Drug Administration (FDA), the researchers said.
They wrote that they have created "a clinically relevant validation dataset for solely smartphone-based contact [transmittance photoplethysmography (PPG)] methods on a wider range of SpO2 values (70%-100%) than prior studies (85%-100%)."
The technique involves placing a finger over the camera and flash of a smartphone, which then uses a deep-learning algorithm to decipher the blood oxygen levels. When the team delivered a controlled mixture of nitrogen and oxygen to six subjects to artificially bring their blood oxygen levels down, the smartphone correctly predicted whether the subject had low blood oxygen levels 80% of the time.
"Our system is the first unmodified smartphone camera sensor to report accuracy at levels below 85% SpO2, and it achieved relatively high sensitivity (81%) and specificity (79%) when classifying subjects with SpO2 below 90%," they wrote.
Such a method could be used by triage nurses to quickly determine which patients need to go to the emergency room, Dr. Matthew Thompson, study coauthor and professor of family medicine at the University of Washington's School of Medicine, said in a statement.
The research team has applied for a patent that covers systems for SpO2 classification using smartphones. They have investigated the potential to develop a commercial test using their method but have no near-term plans to develop one.
"The regulatory environment is still a bit complicated for software-based tests, but that is improving over time," Jason Hoffman, study co-lead author and a University of Washington doctoral student, said in an email interview. "Our understanding is that if we were to pursue this commercially, it would require another larger study and probably 18 to 24 months to become approved if the data from that larger study shows a positive result."
Future studies could also examine whether factors such as skin tone or sex affect smartphone pulse oximetry accuracy, the researchers said.