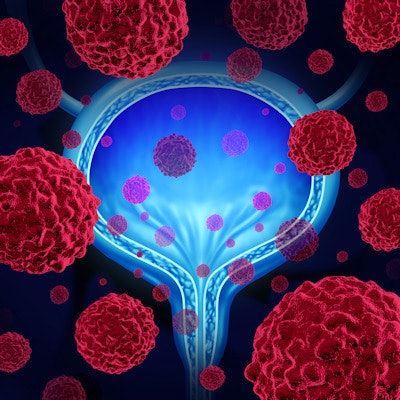 A new biomarker may help predict survival in patients with bladder cancer, according to research to be presented at the 2022 Genitourinary Cancers Symposium of the American Society of Clinical Oncology (GU ASCO).
The identification of a biomarker for predicting bladder cancer survival comes out the secondary part of the S1314 clinical trial, which measured long-term survival data in patients with muscle-invasive bladder cancer being treated with cisplatin-based chemotherapy before surgery.
"There is very little prospective data in this setting," said lead researcher Dr. Thomas Flaig, "and beyond the COXEN analysis reported here, samples and patient outcomes from S1314 are being used to facilitate the evaluation of several additional biomarkers."
Flaig is a Southwest Oncology Group (SWOG) investigator at the University of Colorado (CU) Cancer Center and vice chancellor of research at the CU Anschutz Medical Campus.
COXEN test score
The primary results from the S1314 clinical trial reported an association between a gene-expression biomarker called the co-expression extrapolation (COXEN) score and a tumor's pathologic response to chemotherapy.
Each COXEN test is tailored to a treatment and measures activity level in a specific set of genes in patients' tumor cells, according to the researchers.
The new analysis to be presented at ASCO measures two things: (1) associations between the COXEN score and overall survival (OS, or how long a patient lived after starting treatment), and; (2) associations between the COXEN score and progression-free survival (PFS, or how long a patient lived without their disease getting worse).
S1314 clinical trial
In the trial, 237 patients with nonmetastasized muscle-invasive urothelial bladder cancer were randomly assigned to receive chemotherapy before surgery with one of two treatments: (1) the first arm was treated with a combination of gemcitabine and cisplatin (GC); (2) the second arm was treated with four drugs: methotrexate, vinblastine, doxorubicin, and cisplatin (MVAC).
All patients received chemotherapy, and doctors examined the tumors removed from the patients to determine whether the tumors had shrunk in response to the chemotherapy.
The researchers found that were no significant associations between the COXEN scores for either the GC or MVAC group alone; however, the researchers reported that when the two treatment groups were combined, the COXEN GC score values were a significant predictor of overall survival.
"The work on S1314 was a tremendous collaborative effort across many institutions," Flaig said, "and it provides important information on patients being treated with preoperative chemotherapy for bladder cancer."