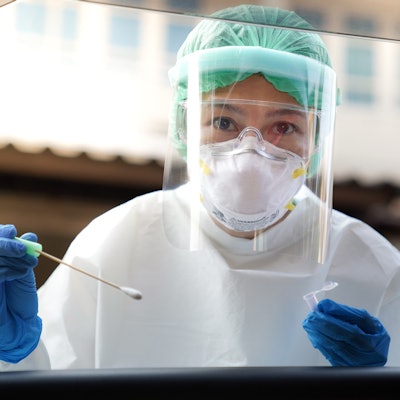 Diagnostic test developer InBios successfully used Curebase's virtual platform to power clinical studies for its SCoV-2 Ag Detect test for rapid detection of SARS-CoV-2 infection, including at drive-through sites in California.
Curebase converted drive-through COVID-19 testing centers in Southern California into research sites with its decentralized clinical trial software platform and virtual site support model. Participants were screened and offered consent in real time from their vehicles while they were waiting for COVID-19 tests.
By accessing a specific study website on their own phones, candidates could answer screening questions and consent to participate in the InBios study. The process required no physical interaction with patients and enabled hundreds of people to be screened in a few weeks.
The InBios test is a lateral-flow immunoassay intended for qualitative detection of SARS-CoV-2 nucleoprotein antigen in direct nasal swab specimens. It can be performed onsite, and results are available in about 20 minutes. The test accurately determined 86.67% of study participants who were positive and 100% of those who were negative for SARS-CoV-2.