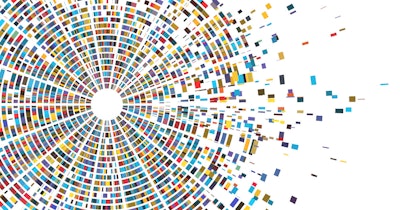 DNA Script on Monday announced the broad commercial availability of the fully automated Syntax DNA printing platform, saying that it consists of the benchtop STX-200 system, advances in biochemistry, robust reagent kits, and intuitive software enhancements.
The company is unveiling the platform at the SynBioBeta 2023 Conference, a networking event in Oakland, CA, being held from Monday to Thursday, May 22 to May 25.
The Syntax platform allows scientists working in their laboratories to synthesize up to 96 highly accurate, ready-to-use DNA oligos with maximum lengths of up to 120 nucleotides in less than 24 hours, DNA Script said.
The system uses new Hi-Fidelity reagent kits for synthesizing longer oligos used in complex synthetic biology and genomics applications, including gene assembly, that require high sequence accuracy. The kits were also designed to incorporate degenerate bases for applications, such as protein mutagenesis, DNA Script noted.
"A major bottleneck in executing synthetic biology workflows is the time delay in obtaining synthetic DNA from commercial suppliers," Paul Freemont, PhD, head of structural and synthetic biology at Imperial College London, said in a statement. "The … Syntax platform allows us to synthesize DNA on demand, which not only speeds up our internal design-build-test-learn cycle but allows us to control our own workflow and maximize access to our synthetic biology design space."