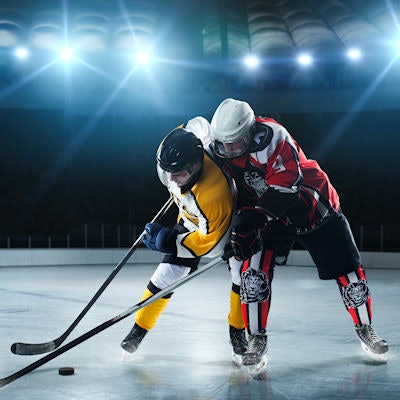 Neurofilament light chain (NfL) in blood correlated well with conventional and more invasive tests in the full spectrum of traumatic brain injuries (TBIs), according to a National Institutes of Health (NIH) study published July 8 in Neurology.
The authors of the study, which was funded by the NIH and the U.S. Department of Defense (DOD), see the results as an encouraging step for the development of serum NfL as a noninvasive biomarker and potential alternative to NfL in cerebral spinal fluid (CSF) for the assessment of TBIs. Researchers published prospective experience with two cohorts: 45 hockey players with acute concussion treated in Sweden, and 230 TBI patients and healthy controls at the NIH's Clinical Center, a research hospital in Bethesda, MD.
In the prospective study of hockey players, the serum NfL and CSF Nfl correlated well, and both were able to differentiate post-concussive symptoms experienced by players for less than one year from problems that lasted more than a year, as well as symptomatic conditions from preseason baseline status.
Researchers also found good correlation in the U.S. research hospital cohort, which included 162 cases with subacute and chronic TBI and 62 healthy controls, where serum NfL was able to differentiate different degrees of disease (mild, moderate, severe).
"Our findings suggest that NfL concentrations in serum offer rapid and accessible means of assessing and predicting neuronal damage in patients with TBI," Dr. Pashtun Shahim, PhD, of the NIH, and colleagues wrote.
'Top research priority'
The authors noted that new diagnostic options are needed for TBIs, which are common, leading to some 2.8 million emergency department visits every year in the U.S. And the full magnitude of the problem is unknown -- injuries on the milder end of the spectrum are common in sports players but millions of injuries that did not result in a visit to a healthcare professional or emergency room went unreported.
Diffusion tensor imaging (DTI) is a useful tool for assessment, but is not widely available and is expensive. Consequently, development of surrogate markers of injury and recovery is a "top research priority" in TBI for the NIH and the European Commission, among other organizations, Shahim and colleagues wrote. Measuring NfL in spinal fluid is an option and has proven to be sensitive for TBI, but requires a lumber puncture, which is invasive, and testing blood samples instead would represent a big advance, though more evidence and understanding is needed to support its use.
"The ability to quantify NfL in peripheral blood has made it feasible to assess neurodegeneration after TBI rapidly and longitudinally," Shahim and colleagues wrote. "Notwithstanding these recent studies, critical gaps remain in our knowledge, including the relationship between CSF and serum NfL, its time course following injury, and the relationship between NfL and neuroimaging outcomes."
In the cohort of Swedish hockey players, analyses included assessments of post-concussive symptoms and the ability to return to play within a year. Higher levels of NfL in serum and CSF were reported in the players in worse shape. The results suggest levels of NfL could predict how many days players would be off the field.
"Serum NfL is increased due to strenuous exercise or body trauma," the authors reported. "There were no differences in serum NfL measured prior, 1 and 12 hours after a warm-up game without concussion incident."
The evaluation at the NIH research hospital rested on analysis of TBI using guidelines developed by the DOD. Out of 162 in the study who had TBI, 89 cases were mild, 48 were moderate and 25 were severe.
Higher NfL was seen for up to five years in TBI patients and "serum NfL distinguished patients with TBI from controls at 30, 90, and 180-days with high accuracy, and showed an association with functional outcome," the authors reported.
Serum NfL also correlated with findings on DTI and other imaging studies, showing the rate of brain atrophy and disease progression, Shahim et al noted. In combination with other studies, the data just published in Neurology suggest that "serum NfL reflects CSF NfL," the authors wrote.
"Thus, NfL in serum could be measured instead of CSF," they concluded.