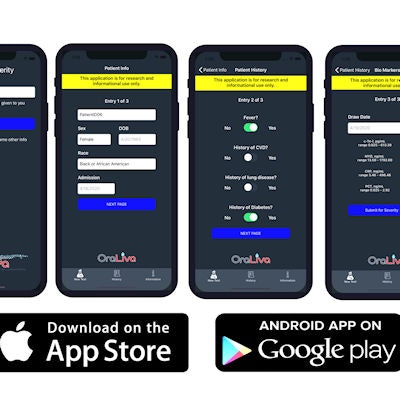 A new mobile app uses artificial intelligence (AI) to assess key biomarkers from blood tests and help clinicians identify patients who are most at-risk for developing more severe cases of COVID-19.
The app's development was led by researchers at the NYU College of Dentistry, who used data from 160 patients in Wuhan, China to identify four biomarkers in blood tests that were significantly elevated in patients who died from the novel coronavirus:
C-reactive protein (CRP)
Myoglobin (MYO)
Procalcitonin (PCT)
Cardiac troponin I (cTnI)
These biomarkers can signal complications, like acute inflammation, lower respiratory tract infection, and poor cardiovascular health. Researchers built a model using the biomarkers and risk factors, like age and sex, and trained a machine learning algorithm to define the patterns of COVID-19 disease and give patients a severity score. After biomarkers and risk factors are entered into the model, it produces a score from 0 (mild or moderate) to 100 (critical).
To make the tool available and convenient for clinicians, researchers developed a mobile app that can be used at the point of care to quickly calculate a patient's severity score. It has recently been tested and optimized at the Family Health Centers at NYU Langone in Brooklyn.
Development of and experience with the risk score model were described in an article on June 3 Lab on a Chip, a journal of the Royal Society of Chemistry. The plan is to roll the app out nationwide in the coming weeks.